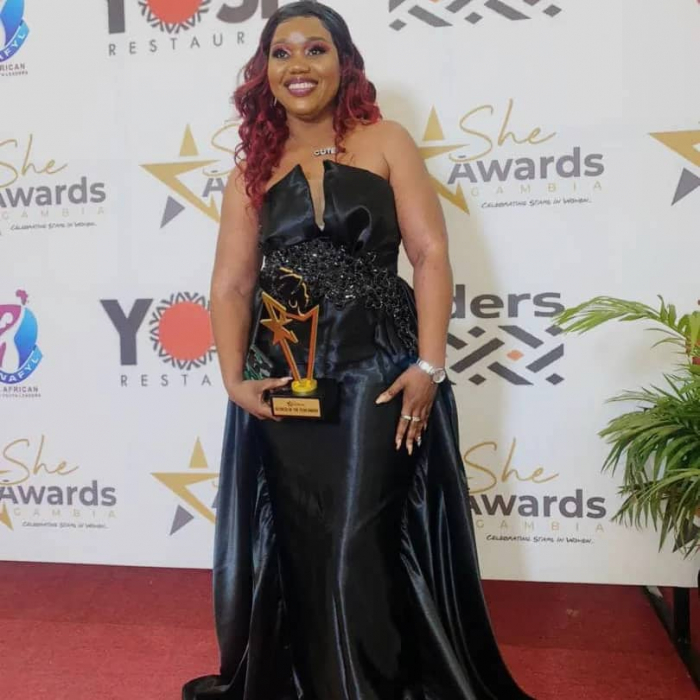 Ida Mendy popularly known as 'Da Gambian Drama Doll or Mendoza was Saturday won the Actress of The Year Award organised by She Awards Gambia at event held at Sir Dawda Kairaba International Conference, Senegambia.
This year event is the second edition of the She Awards Gambia the first was held virtually in 2020 due to the emerged of Coronavirus pandemic.
Among seventeen outlined categories of the She Awards Gambia, three popular actresses, Mariama Colley, Monica Davies and the winner of the award, Ida Mendy were the three nominees for the Actress of The Year Award category this year.
In brief, the Actress of The Year Award winner, Ida Mendy who is very passionate about acting is an actor, caterer, marketer and CEO of Ida's Catering Services.
She started her acting career ten years ago and well versatile in both stage and screen, before this winning award, she has been nominated twice in a row by Gambia Fashion Awards in the category of Most Stylish Actress.
Popular Da Gambian Drama Doll has featured in different stage and movies which included (stage) Trials of Brother Jero; Trials of Busumbala; Kumba Bu Amm Ndey ak Kumba Bu Amut Ndeye; Raw Alien King; Women of Owu; Black Hermit; Ousman and Rohey; The Lion and The Jewel. While the movies include Feel My Pain; Broken Trust; Languro (series featured on QTV), Lichi Kanam (also series on QTV); My Father's Company; The Agenda; The Bride to Be; Kerr Mbye (featuring every Ramadan drama skits on QTV); Kuubuka Labang; Monica among others which can be viewed on YouTube.
Commenting on her winning award, Ms Mendy said the She Awards Gambia is one of the most phenomenal awards, "if you win it count yourself as an outstanding woman and 'alihamdoulillah,' I'm grateful to have won an award in this category of the Actress of The Year where three of us were nominated – Monica Davies, a household name in The Gambia movie industry; Mariama Colley a Hollywood award winning actress and myself."
According to her, it was a very tough one "this is my ever first winning award and it was a very tough one to emerge as the winner category and is a great achievement for me."
The three of the nominated actresses for the category were resident actresses at the only Ebunjan Theatre where they were trained and having been performing for many years "all thanks to our amazing Artistic Director Aunty Janet Badjan Young," she extolled her director.
Ida Mendy, however, dedicated the prestigious award to her beautiful and wonderful mother whom she said always supporting her in the chosen career.
"I am happy, winning this award means the journey has just started I will not relent but continue to work hard and harder because hard work pays and one should believe and be passionate in whatsoever chosen to do," she expressed her happiness.
She applauded the organizers of the She Awards Gambia saying "thanks for recognizing our efforts – the actresses, we appreciate this. And to my fans expect more breathtaking movies on your screen and plays on stage, to Gambians please support us we can do it. I love you all!"
She awards Gambia is an initiative of young Gambian women to recognize and celebrate the impressive work of women to inspire other women and young girls.
Read Other Articles In Arts and Culture