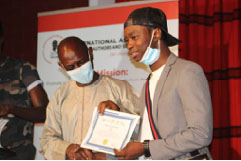 The International Conference of Scholars was on 7th January held at the Ebunjan Theatre in Banjul, together with the unveiling of the Award of Excellence for African literature which was received by author Modou Lamin Age-Almusaf Sowe. It also witnessed the launch of his book titled 'Don't Judge the Book by the Cover'.
At the event, Gambian rapper YDEE received the Highest Music Award 2022, as an appreciation for his individual efforts and recognition for the positive effect that his music and lyrics bring to the development of his country.
The award is signed by the International Association of African Authors and Scholars (IAAAS), the Pan-African Writers Association (PAWA) and the One African Pen Warriors Organization for Development (OAPWOD).
YDEE said that he was very grateful to receive the award seen by him as the biggest achievement in his musical career. The musician expressed special gratitude to Modou Sowe for the organization of the ceremony. "I am deeply honored to learn that my music is being heard and appreciated by international authors and scholars."
The young Gambian rapper is known for his Afro Manding music, with lyrics about the struggles he faces in his country. He chooses to be the voice of the voiceless and many of his songs describe actual life in Gambian society, providing youth with an understanding that their struggle is real and that they do not face it alone. Many describe YDEE as 'the realest MC' and leader of the next generation.
YDEE is currently working on a new album to be launched later this year, together with the release of a new music video for his latest hit song Allejeh Mingfo Wollebeh Kellah (What gods says happens).
The rapper was commended for his positive contribution to national development.
Read Other Articles In Arts and Culture