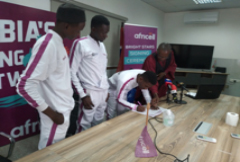 The Gambia's leading GSM Operator, Africell Gambia Limited recently renewed two contract agreements with Bright Stars Entertainment and Leket Bu Barra at a ceremony held at its headquarters along Kairaba Avenue.
Waka Jange, Africell Entertainment promoter described the ceremony as very significant, and affirmed their commitment with Bright Stars Entertainment and Leket Bu Barra. "We are very proud to associate ourselves with you once again."
Mr. Jange added that Africell commitment is not only in the music industry, but entertainment in general, especially supporting youth that are doing tremendously well in the entertainment industry.
"Africell wanted to partner with only the best and you are the best," he said adding that, Bright Stars Entertainment is a household name in The Gambian comedy. He added that, they are one of the comedy group that define Gambian comedy industry by hosting one of the first standup comedy night that bringing together different people of all walks of lives, and making them laugh like never before.
"Africell as a brand that support talents and empower young people, would definitely love to continue the partnership with Bright Stars, and as brand ambassadors, this will enable both parties to continue the working relationship and create ideas selling and promoting Africell brand terms of music, comedy, and drama."
Assan Jobe, the brain behind the whole issue thanked Africell for their support. "We had numerous contracts with Africell and are happy that today, we are here signing the contract for the second time."
"As Bright Stars, we reassure you of our continuous commitment because this is the group that will give you real comedy; this is why Africell want to associate with us."
"Bright Stars Entertainment is a group of young people who are determine to bring out change in our society."
Meanwhile, Africell renewed another contract agreement with Leket Bu Barra. Waka Jange said Africell is proud of giving back to the community.
According to him, Africell believe that the best way to develop the country, especially within the creative space, and the sporting areas known as 'lamba', a traditional sport of Senegambia. He added that unfortunately in The Gambia, the sport has lost its glory, and Africell is doing everything possible to make sure that it comes back.
"Today we are very honor to renew an endorsement contract agreement between Africell and Leket Bu Barra who is one of the most popular wresglers in The Gambia."
Kebba Drammeh and Leket Bu Barra both expressed appreciation for renewing the contract, and thanked Africell for the excellent contribution that the company is doing towards nation building.
Read Other Articles In Arts and Culture