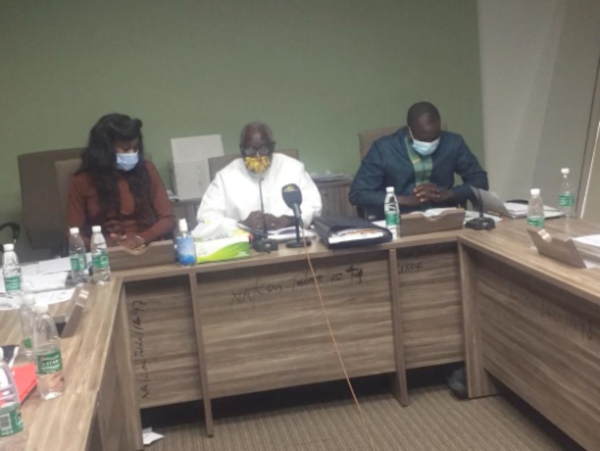 Mr. Nyakassi M.B. Sanyang, statistician general of GBoS, disclosed to the committee that they had some issues with the reporting of their financial statements as a result of some number of changes at the Accounts Unit.
According to him, the then accountant responsible for the arrangement of the statements retired and a new accountant was hired but he too spent only 3 months with them and left for another better job that he found. After that departure, he added, it took the authority time to recruit another one.
"We needed to do a lot of work as we needed to get all assets valid which was a problem including the building as we had to write to the Ministry of Lands and Regional Governments for support, but that also it took us time before we got response," he stated.
He added that the frequent changes at the finance department also made it more difficult for them to act on time to provide the financial statement to the National Audit Office (NAO) for 2017, 2018 and 2019 which are yet to finish and that was why they could not present them, he concluded.
Dr. Momodou Njie, National Statistics Council chairman, stated that considering how important GBoS is to national development and social progress, they are very mindful of those responsibilities and for that, they have been doing their best to live up to those expectations.
He added that GBoS has a problem and the problem is, they have incomplete set of documents submitted to the National Assembly and what they have in their possession is their Activity Reports for 2017, 2018 and 2019 but they don't have the audited financial statement as they are still at the Auditor's Office but they are in constant contact with the Audit Office to resolve the problem, he assured the committee.
After a stand down for the committee to decide on the matter, Hon. Halifa Sallah, the committee's chair, said that the committee has come to the understanding that the task now is for the auditors to audit the report which he described as a specialised function requiring expertise and time.
He added that the committee is also convinced that if an end is not put to the backlog, they would not be able to add value to the sustainable development of our institutions.
"We have a common responsibility to ensure that financial reports are correct and accurate, we cannot talk about Activity Report without talking about financial base that provides for the activity; which is why we do not consider them separate because the Activity Report should indicate the type of financial input necessary for the operationalisation," he continued.
The committee members demand that the chairman engage the Audit Office to have the statements prepared before the end of March for presentation prior to the Auditor's assurance that, by the end of the week, they would be sure on when they can be ready with the auditing.
Read Other Articles In Headlines