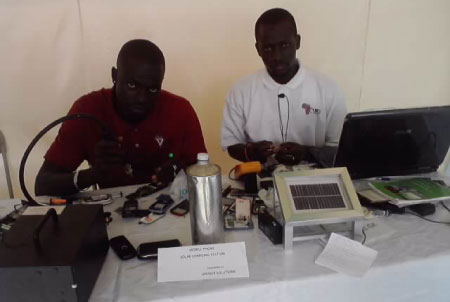 The 2012 YMCA youth trade fair has continued to gain momentum with more products and skills displayed by Gambian young entrepreneurs.
As part of our exclusive coverage of the national youth trade fair, this reporter yesterday morning visited the YMCA grounds where the fair was going on and had the opportunity to interview some of the participants.
Organised by YMCA, the fair was described by as first of its kind meant for young people in the country and aimed at creating a market niche and product exposure to profile young entrepreneurs as well as the Gambia BLF funded project beneficiaries.
He first spoke to two mobile technicians, Nuha Touray and Alkali Sidi Singhateh.
According to Singhateh he is currently at his intensive period as a technician with Unique Solutions Company.
He revealed that he started internet technician in 2005 and that he was part of the first 70 youths trained on mobile repairing jointly organised by Unique Solutions and GAMJOBs.
"The youth trade fair would not have come at a better time than now," he said, adding that it was first of its kind for him to attend such a fair where other young people also exhibit their skills and products.
"When I was coming, I only came with my materials but now my table is full of mobile phones for repairing," he said.
He added that he was not charging any price for his service. "What I am doing here is to help me showcase my talent," said the young technician.
Mr Singhateh revealed that such an event is very vital, adding: "It is something showing the talent of the Gambian youths."
He stressed that most of the goods on display are made by the youths, while saying that if young people are given the opportunity they can surely demonstrate their talents.
He appealed to the government to continue creating the enabling environment and to assist the youths, while calling on the youth themselves to take advantage of the opportunity.
For her part, Fantah Kamara Verschuren, whose products include Gambia movies, batik, tie and dye, said her association, Dream Entertainment Cooperation, is collaborating with the Kabafita Youth and Children Development Association.
According to her, she has spent four years in The Gambia and has been training young people in music, movie acting as well as in skills development for free.
When quizzed about the timeframe of the trade fair, she responded that it was not enough. "It would have been better at least for one week, to attract more people," she said.
She  commended the YMCA for organizing such an event. "It will motivate the young people as well as create for them a market for their products," she added.
Speaking to this reporter, one Abdou Sula Bojang, a native of Sanyang, who plies his trade with John Pickering Mango Jam Plant and Skills Centre, said that what they do is to preserve food products and process them.
According him, he was part of the last batch of the BLF funded project of the Gambia YMCA.
He expressed gratitude to the organizers and described the trade fair as a magnanimous occasion, adding that what they used to sell a day is more than D600.
He further described the trade fair as a venue for advertisement for himself and his company as a whole. He noted: "If this strength continues, Gambian products will flows not only in the country but as well as to outside world."
He urged the government and NGOs to establish more quality skills training centres, saying all cannot work in offices and advised collogues to engage in skills training.
Speaking to Chareh Jallow, a seamstress who runs a tailoring workshop at Albert Market in Banjul, said she was one of the beneficiaries of the YMCA BLF funded project.
According to her, the BLF funded project has indeed changed her life.
She says she makes several types of dresses including simple and 'dummeh' as they are locally called, adding that she opened her workshop in April 2011.
Read Other Articles In Article (Archive)