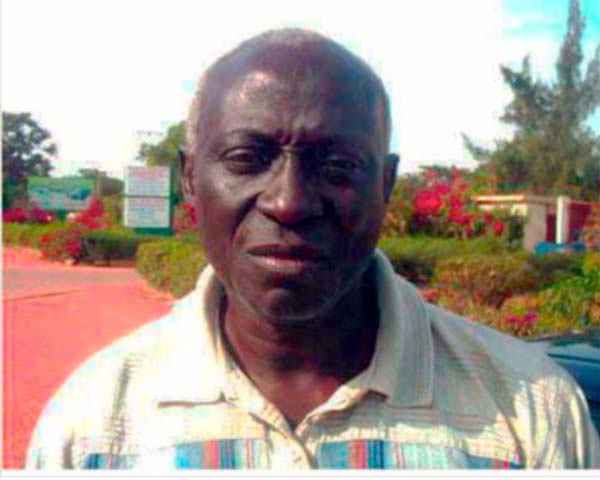 His name was always synonymous to everyone who loved football.

Sports Commentators covering weekend's football direct from Box Bar stadium and later from the Independence Stadium would commence their ball to ball commentaries by first calling the march officials.
"Here they come out from the dressing room, the two team teams led by the Central Referee, Badou Jassey."
A former footballer himself, the late Badou Jassey was a Councilman as well, calm, friendly and a positive force on the field as a referee.
The late football referee didn't blow his own trumpet, but one proud claim to fame was when he was voted the best referee.
He enjoyed the camaraderie of sports and enjoyed working with his friends, even after he retired from active sports.
His relationship with players and officials stood out, and made him as popular as he was.
Badou Jassey had a calm air of authority when needed, an ability to listen, to suggest and point to ways forward in dramatic situations.
He had time for anyone, no matter where he went, if he saw someone, he knew he would be more than happy to sit and have a long chat with them about football.
The former secretary general of GFA, Jammeh Bojang, described the late Badou Jasseh "as a seasoned Gambian referee who had earned the respect of both Caf and FIFA as a result of his magnificent achievements in refereeing".
"He was made a Caf referee instructor and also the chairman of the Gambia Football referees committee," he noted.
Jammeh Bojang continued to stress that the late Badou Jasseh had devoted all his time towards the uplifting of the referees committee and has since been able to train so many Gambian referees who are now high-level Caf and FIFA referees.
Culled from Point Newspaper, reported by journalist Lamin Drammeh.
Another sterling veteran George F. Gomez, noted that aside been a best referee in Africa, Uncle Badou, was a top class athlete.
Babou was a 400 meter runner and was the 2nd carrier of the baton in one of the best 400 meter relay team The Gambia has ever put together.
I personally, had many interactions with Uncle Badou Jassey in our football, chief among them was in the GFA organising committee, in which I served as secretary for two consecutive years.
Uncle Badou, was a member representing the referees in the committee. I can report without any hesitation that he was never absent for a single meeting during my time in that committee as secretary.
Moreover, all his reports were always received in time and are both meticulously arranged and presented.
He would defend these referees at meeting and was always ready to explain in details any doubt members of the committee had about the reports. To put it simply, Uncle Badou is a perfectionist when it comes to the affairs of refereeing.
To uncle Badou, refereeing is more than arbitrating, he viewed it as a discipline, a way of life and as part of his everyday activities.
Many of his colleagues told me on many occasion how he would encourage them when they felt like it was the end for them.
Some of those people went on to become CAF and FIFA certified referees and made our country proud. It is the likes of uncle Badou Jassey and Alagie Omar Sey, Modou Sowe, Bakary Papa Gassama, etc, The Gambia made a name for herself on both the continental and global stage in terms of refereeing.
Prior to his departure from the face of the earth, the late Badou was both the head and the heart of the GFA's referees committee taking up a leadership role as the chairman.
His leadership style was well liked by all his colleagues to a point he even became a father figure for most of them. He was a good listener, tolerant, accommodating, constructive, soft spoken but assertive, and most importantly he led by examples.
Undoubtedly, uncle Badou, was behind the successes of some of the country's finest referees having taken them from scratch to the highest refereeing level.
He was a qualified Caf referee instructor as well as a FIFA registered referee for a number of years. During those years he served with dignity, diligence, tenacity and professionalism.
He earned the respect of his colleagues in the referee family and the entire members of the sports fraternity. Uncle Badou was a venom-less and harmless human being who was admired by all including his family.
He was an amazing father, a kind and considerate keen sportsman. Despite his success and passion for refereeing, he did not seek glory, preferring to shy away from the spotlight rather than find it.
Until his demise, the late Badou Jassey was popular and remained popular off the field, earning the respect of both sides of the opposing teams.
His professionalism gave a lot of people a lot of pleasure and always been remembered for that. The late Badou Jasseh, who officiated in two Africa Nations Cup finals, is survived by a wife and three children.
NB: this report may not have exhausted everything uncle may have contributed to the development of sports....it just highlighted his major achievements and to celebrate him as one of our sterling veterans.
Read Other Articles In Article (Archive)