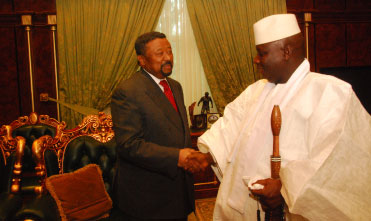 The Chairman of the African Union Commission yesterday evening arrived in Banjul for talks with President Yahya Jammeh over the situation in neighbouring Guinea Bissau.
Jean Ping, according to our source, flew in to Banjul from Guinea Bissau.
As part of his mission, Ping held talks with President Jammeh on a wide range of issues at State House last evening.
Shortly after his audience with the Gambian leader, the Chairman of the African Union told waiting journalists that, taking into account the situation prevailing in the sub-region mainly that in Guinea Bissau, it is very useful for him to seek advice from President Jammeh who, he said, knows very well the situation in the sub-region.
"I was very happy about the advice President Jammeh gave me; about the analysis of the situation, which he knows perfectly well, and I'm going to send some of our technicians in the sub-region to continue to seek advice, to have ideas from Presidents in the sub-region," he said.
On what steps the African Union was thinking of taking in Guinea Bissau, Ping said after meeting with all stakeholders in Guinea, including the army and international community, he had the impression that the situation in Bissau is under control.
"But the real problems are still there. There are many problems, including the reform of the army. We talked about all these issues with them, and I now have a better evaluation of the situation, not only in Guinea Bissau, but the sub-region in general," he added.
According to him, despite all that it has, the African continent is very unfortunate to have all forms of conflicts.
He also told journalists that the year 2011 is the worst year for the continent, with crises in Libya, Cote d'Ivoire, DRC Congo, Somalia and Sudan.
"We are being confronted with tremendous problems, which we have to solve because you will never have a sustainable development without peace," Ping added.
The African leaders, he said, think that it is impossible to solve African problems by ignoring the African people.
"It is impossible; we are not saying that African problems need only African solutions; we are saying that African problems need African solutions with the assistance of the international community; and not by ignoring the African people," he told reporters in Banjul.
Read Other Articles In Article (Archive)