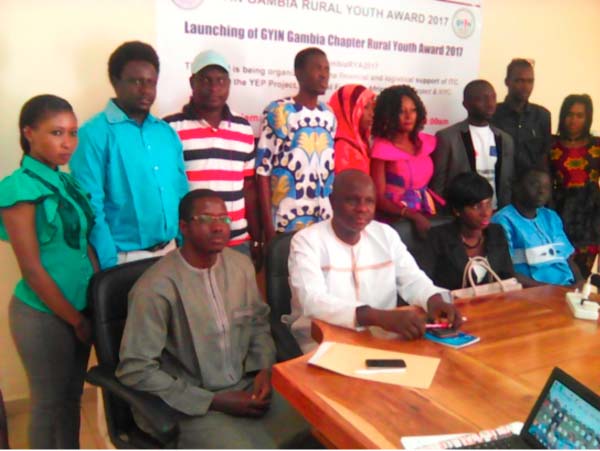 The Gambia chapter of Global Youth Innovation Network (GYIN) staged its first-ever rural youth award ceremony, at the Agricultural Rural Farmers Training Centre in Jenoi, LRR on Saturday.

The overall aim of the award was to identify, promote and elevate successful young men and women who, despite all odds, are channeling their creativity, energy and passion to contribute to making a change in their communities.
It also aimed to motivate rural youth's to showcase their talents in entrepreneurship, agribusiness and information technology as well as provide a platform to promote gender equality and inclusiveness.
The award was organised with the financial and logistical support of the National Agriculture Land and Water Management Development Project (Nema), an International Fund for Agricultural Development (IFAD) funded project and the Youth Empowerment Project (YEP), which is funded by the European Union (EU). It was implemented by the International Trade Centre (ITC) and the National Youth Council (NYC).
30 people were awarded certificates and the 10 outstanding participants were awarded with fifteen thousand dalasi (D15,000) each.
The award was categorised as follows: Young Farmer of the Year, Young Entrepreneur of the Year, Young Business Idea of the Year, Young Emerging Business of the Year, Young Information Technology of the Year, Young Commercial Farmer of the Year, Young Agribusiness of the Year, Young Social Media Campaign of the Year, Best Business Innovation of the Year and Young Business Partner of the Year.
Speaking at the awards ceremony, Executive Director of GYIN Gambia, Mamadou Edrisa Njie, said GYIN is an international youth network that operates in 110 countries globally.
"It is a network that is also supported by the International Fund for Agricultural Development," he said.
Mr Njie said the group has organised a National Youth Summer Camp, which consisted of 16 men and 26 women. It was held from the 24th to the 31st July 2016. It was called ELIT (Entrepreneurship, Leadership and Information Technology).
He said GYIN and the National Youth Network (NYN) have organized a series of training programmes for young people since 2012 on entrepreneurship, leadership, agribusiness and information technology.
Mr Njie called on their donors and the private sector, farming organisations, youth organisations, ministries and departments to join and support the global network that supports the development of the rural youth.
Also speaking at the awards ceremony, Muhammed Kebbeh, the executive director of the National Youth Council, said the award considered about 30 young people from rural areas, of which 10 were awarded.
He said that improving rural life and employment could not happen in the absence of young people as they constitute more than 50% of The Gambia's population.
"They are the generation suitable enough to be in schools and to have massive education. They are a generation that can amend and realise the power of technology to communicate but also to provide the tools and platforms necessary for development," he added.
Read Other Articles In Article (Archive)