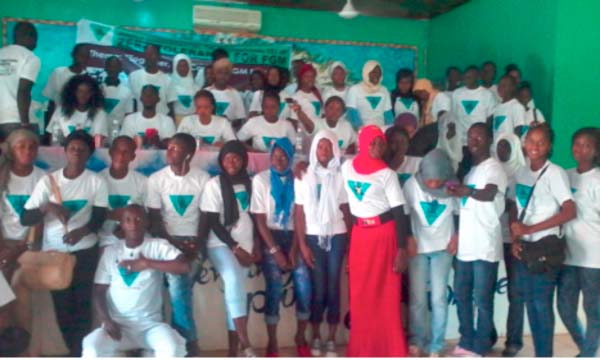 Safe Hands for Girls, Think Young Women, the Girls Agenda, Kids Come First Foundation, all members of The Girl Generation, on Saturday celebrated the International Day of Zero Tolerance for FGM, at the President's Award Scheme in Bakau.
The event was funded by the Girl Generation together with the Guardian Media Global Campaign to End FGM.
The Girl Generation is a five-year programme supported by the UK's Department for International Development and Implemented by options which promote the idea: that "we can end Female Genital Mutilation in one generation".
The Girl Generation supports grassroots organizations to strengthen their social change communications to end FGM, building on the Girl Generation vision and values, and multiplying the message of hope they promote.
Speaking at the event, Isatou Jeng, programme manager for the Girls Agenda, said it is honourable to see young people taking the lead in ending FGM in a generation.
She said no one person, individual or organization can end FGM. "Ending FGM needs a collective effort and responsibility," she said, adding that the older generation neither the younger one could do it all alone.
The campaign against FGM has been going on since they were yet unborn, she said. They have however joined the cause and are part of those now spearheading the campaign, which is worth celebrating.
Haddy Jonga, who represented the Girl Generation and Think Young Women, said the Girl Generation is a global campaign that supports girls and women-led movements to end FGM.The organization therefore strives hard to fund such activity together with the Guardian media global campaign.
She said the FGM campaign has been going on over three decades now but the perspective of young people with regard to The Gambia was missing and they deemed it necessary to bring themselves on board, invited or not, because they are tomorrow's mothers and fathers, who would decide "whether or not to cut their daughters".
Maria Saine, programme officer for Safe Hands for Girls, said they recently concluded the first National Islamic Conference on FGM held at the Paradise Suites Hotel, at a convergence of religious leaders from all seven regions in The Gambia aim at clearing the misconception that FGM has around Islam.
She said they were glad that after the conference some religious leaders declared to join actors in the campaign to fight FGM and end it by 2030.
Lisa Camara, coordinator of Guardian Media Campaign to end FGM in The Gambia, said they were celebrating to renew their commitment to the fight against FGM.
She said the Guardian Media Campaign, in partnership with Safe Hands for Girls, has done a lot of activities on FGM, working mainly with the media.
She said they had held a media academy in which activists and journalists came together as well as media workshops which edified media personnel on FGM.
She urged the participants to share and put together ideas that would help in bringing about an end to FGM, saying they have an open policy working with all in ending FGM.
Bakary Dampha from Kid Come First Foundation said they campaign against issues affecting children and women including FGM.
He said they as well train children on the use of computers, to equip them with advocacy skills.
Read Other Articles In Article (Archive)