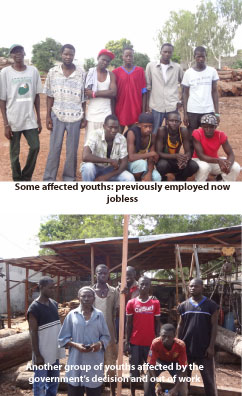 In our efforts to bring the voices of vulnerable youths into the limelight, we visited various areas within the Greater Banjul Area where wood is being processed and loaded for re-export.
Speaking to one Ebrima Jobarteh, a young man from Foni Bintang, he said he has been in the business for long time now, and feeds his family through this job.
He said as a result of banning the re-export of wood by the government, he would suffer the consequences with his entire family.
"It will greatly affect us," he said, adding that at the moment most of the youths are sitting without working, which will have a great and negative impact on their livelihood.
He then used the opportunity to appeal to the government to lift the ban, adding that he has spent a lot of money in getting timber for re-export from the bush.
Looking at that expenditure, if the government bans the re-export it will have a serious impact on him, he said.
Jobarteh went further to appeal to the government to allow them to re-export and sell the timber that they have already invested their monies on.
Abdoulie Tunkara, another young man in Latri Kunda, who earns his living through loading wood into trucks, and selling timber, said the banning is creating big hardship for him.
"As I speak to you, I don't even have fish money for tomorrow, because since they announced the banning, the business has stopped, so I'm not working to get money," he revealed.
He said what even makes his situation worse is that when the President announced that the ban was lifted until December, he decided to  use his little resources to buy timber, only to hear that the ban has been re-imposed.
"Now that Tobaski is approaching, and I had already loaded the timber in the bush, and the truck driver asked me to off load the timber, since the announcement," he said.
 "I am appealing to the President to lift the ban, as we are suffering and these could cause a lot of problems for the country and undermine peace because we need to survive."  
"As you can see, all these young people including myself are sitting here since in the morning doing nothing," he lamented.
He then called on the government to look into the issue of the plight of the youths and revisit the ban on re-exporting wood, otherwise he believes the crime rate will increase.
He said the government needs to look into the welfare of the youths and create opportunities for them, since not everybody can work in the offices.
Lamin Camara, another young loader from Kiang who works at Coastal Roads area, also expressed dissatisfaction over the banning of the re-export of timber.
He said that at the site where he works, over hundred young people work there, loading containers and trucks.
"Since the announcement, all of us are sitting, jobless, and we are suffering," he said.
He appealed to the government to consider their plight, and allow the business just for at least a few months, since schools have just re-opened and they need to pay their children's schools fees, buy Tobaski rams and so on.
Saikou Camara, also from Kiang, said he is young but heads a family which entirely depends on him for their feeding and other needs.
"I graduated from school, but since I have no white-collar job, I decided to venture into the timber business," he said.
"For us here, we have over 200 people working here, most of them youths, but since the announcement we are all in a dilemma," he said.
He said that they have no problem with the government coming up with measures to regulate the trade, but banning it indefinitely would be a big blow to them and the Gambian economy in general.
Alieu Faye from Bansang, who works at Sinchu Alhagie, said since after graduating from high school in 2010, he has been in the timber loading business.
"My condition has improved very well over the past two years, and I have been very helpful to my mum and dad," he added. However, since last week, he finds it difficult to provide even breakfast.
"This is the only hope for us, since we know we cannot all fit in offices, and we don't have a chance to go to Europe. We stick to this business to help our families," he said.
Abubacarr Barrow, from Jah Kunda, and who works at Kunkujang, also expressed sadness about the banning of the re-export of wood, which he added has a caused a big blow to the wood industry.
He said thousands of youths are now sitting jobless. Therefore, the government needs to consider the youth's unemployment plight and allow the re-export business.
He added that since the announcement by the government, many youths are frustrated and are wondering where to earn a living.
He appealed to the President to look into the plight of youths who have become jobless since the banning.
Muhammed Jammeh, a student who also works at a loading point in Tallinding, said he feels very bad about the development.
"In this business, so many young people are employed either as a truck or container loaders, wood sellers, drivers or security guards; and even food vendors were selling well," he said.
Modoufa Jarju, a wood seller, said he works with his cousin Bakary Jammeh, but they are also very much concerned about the recent government decision.
"This banning is a big setback for the country and her youths," he lamented.
Read Other Articles In Article (Archive)