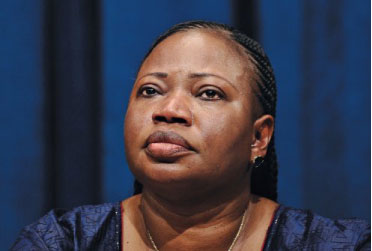 A woman with gravitas takes on the bad guys
The new chief prosecutor of the International Criminal Court (ICC) must explain why Sudan's President Omar Hassan al-Bashir remains at large despite an ICC-issued warrant for his arrest. She must explain why the court's caseload seems to "target" Africa. And she must explain why the ICC has convicted just one war criminal—Thomas Lubanga Dyilo of the Democratic Republic of the Congo—in its 10-year history.
Unfortunately for Bensouda, misconceptions about the ICC abound. Yet setting the record straight isn't her only task. When the 51-year-old Gambian rose from deputy to chief prosecutor last June, she inherited 14 open investigations in seven countries, and 11 open arrest warrants. As the Lubanga case demonstrated, investigating and prosecuting war crimes takes time.
Hopes are high for Bensouda. Her appointment elicited widespread praise—and sighs of relief from those (and there were many) who couldn't stomach her predecessor, the outspoken Argentine Luis Moreno-Ocampo. Bensouda is altogether different. A composed, stately woman with serene features, she projects confidence and gravitas. Colleagues say she never forgets a name. Above all, she's experienced: Bensouda was justice minister in Gambia and held high-level positions at the International Criminal Tribunal for Rwanda.
This is to say Bensouda seems well prepared to handle the court's delicate PR issues. Her charm and familiarity with African leaders should help convince them the ICC is not some colonialist Trojan horse, but an international partner that welcomes their leadership. To those who accuse the ICC of having an African bias, Bensouda is firm: "If the African leaders are coming toward the court, and requesting intervention, I don't think geographical consideration is what we should think about."
Geography and jurisdiction are, however, two different things. Until the court has more international support, its effectiveness to prosecute war criminals and deter would-bes is limited by its charter, the Rome Statute. Syria might be a war-crime bonanza now, but it's not an ICC state; without a Security Council referral, Bensouda's hands are tied. Sudan's Al-Bashir is a wanted man, yet the red-carpet treatment he gets from heads of state (recently, Egyptian President Mohamed Morsi) makes him difficult to net.
Also discouraging is the reluctance of three Security Council members—the United States, China and Russia—to ratify the ICC's charter, for myriad political reasons. Bensouda knows the game: she has praised, with calculating diplomacy, the increased support the U.S. has shown to the court of late.
It may be a while before the court casts a long-enough shadow to deter war crimes of the scale and degree committed by the Konys and Assads of this world. Bensouda is patient. And she has her own priorities—namely, improving prosecutions against those who commit sex and gender-based crimes. "I am a victim-oriented person," she tells Newsweek. "I like to see that victims know they have a voice, and it's their own voice."
Read Other Articles In Article (Archive)