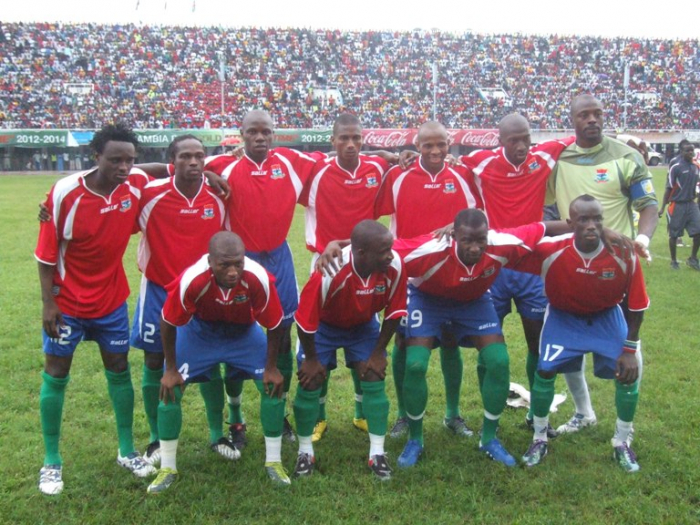 The Gambia is still falling in the FIFA world ranking after filing a latest record of becoming the 131st team in the world and 38th in Africa in the October Edition.
In last month's rankings, the Scorpions were in 129th position in the world and 39th in Africa.
According to FIFA.com, the October edition of the FIFA/Coca-Cola World Ranking reflects the 136 matches played over the past month, 76 of which were 2014 FIFA World Cup Brazil™ qualifiers.
Leaders Spain and Germany now find themselves closely pursued by Portugal (3rd, up 1) and Argentina (4th, up 3), who both managed to secure wins in their recent preliminaries.
Colombia (9th, up 13) have moved back into the top ten for the first time since July 2002, thanks to their two impressive victories over Chile (3-1) and South American champions Uruguay (4-0).
Similarly, 2004 European champions Greece (10th, up 1) find themselves back among the world's best teams after an absence of exactly one year, courtesy of opening wins in European Zone Group G over Lithuania (110th, up 6) and Latvia (118th, down 24).
The teams that have slipped out of the top ten are Croatia (11th, down 2) and Denmark (18th, down 8), with both having failed to secure victory last time out.
Belgium (30th, up 10) and Serbia (33rd, up 9) continue to climb and will come up against each other in a top-of-the-table clash on 12 October in the next round of Brazil 2014 qualifiers. The last encounter between these two sides was a UEFA EURO 2008 qualifier which the Red Devils won 3-2.
Currently second in African qualifying Group A, Central African Republic (49th, up 15) have moved up the global ladder for the seventh month in a row, climbing from 131st in March 2012 to enter the top 50 for the first time ever.
The current edition of the Ranking sees a further nine teams reach their best-ever position: Algeria (24th, up 4), Mali (27th, up 5), Cape Verde Islands (51st, up 14), Haiti (60th, up 17), Dominican Republic (102nd, up 1), Philippines (147th, up 3), Aruba (154th, up 4), Guam (178th, up 7) and Montserrat (181st, up 25).
Read Other Articles In Article (Archive)