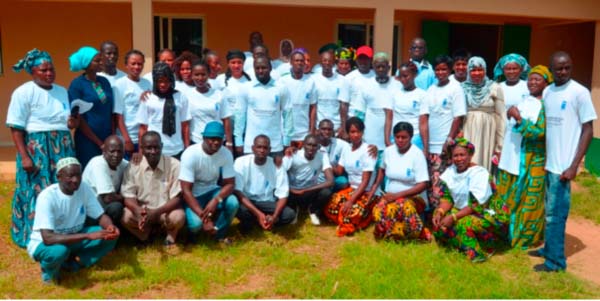 Young people of The Gambia have been urged to exercise their civic right by fully participating in politics.

Speaking at Bwiam during the opening ceremony of a daylong seminar on women and youths participation in politics, Kaddy Sanneh, West Coast Region youth committee vice chairperson, said it has been observed that there is limited youth participation in politics, which should not be the case.
The seminar was organised by the National Council for Civic Education (NCCE) and funded by UNDP under the Election Project for The Gambia, 2016-2018, electoral cycle.
The daylong seminar brought together representatives from political parties, youth organisations, institutions, NGOs among other stakeholders within the West Coast Region.
The daylong seminar is part of nationwide activities being conducted by the NCCE in all regions of the country.
The sensitisation activity is aimed at enhancing knowledge on the importance of women and youths participation in politics and elections, and representation in decision-making institutions.
At least 300 women and youths are expected to be sensitised nationwide.
Ms Sanneh, who was deputising for the Executive Director of the National Youth Council, said young people see their involvement in politics as meaningless, useless, valueless and time wasting, which they should avoid.
Young people and groups should be aware that participation and representation in politics is their right which they need to exercise, she added, noting that it is their right towards self and national development.
Ms Sanneh stated that: "As young people, we are not voiceless, yet our voices are not heard because we do not take part in politics. We are not the minority, but yet are not seen because we isolate ourselves. We are not the powerless, but yet our powers are misplaced".
She, therefore, called on youths to be involved and participate in politics to address issues affecting them.
As youths they do not have to see politics as something meant for elders, she told youths, adding that they are the future and participating in politics means preparing their future.
She called on the youths to take the lead in politics.
"We always sit back complaining and blaming leaders that what they are doing is not right," she said, adding: "If we do not want the things they are doing for us, let us go ahead and take the lead and express our views for people to know our concerns, and be able to come out with solutions."
She described voting as very important, saying election is just at the corner and, therefore, called on the youths to get a voter's card and vote come the election.
Having voter's cards and not voting is not the solution, she went on, while urging youths to change their attitude towards politics.
"This is our country and nobody will develop it for us; by voting is one way of developing it ourselves, she said.
Bintou Fatty-Joof, a representative of the Executive Director of the Women's Bureau at Bwiam, in her statement, said the importance of women's participation in politics could not be over emphasised because as the saying goes, "if you empower a woman you empower a nation".
She said when a woman holds a key political position it enhances sustainable development, which helps in breaking the gender inequality that exist between men and women.
Mrs Fatty-Joof further stated that it is time for women to stand firm and go into politics as political candidates, rather than being just mere clappers and dancers for men in political positions.
She added that it is important for women to trust and have confidence in their fellow women candidates, who opt for political positions in their respective districts so as to enhance female participation in politics, rather than undermining them.
"Promoting women's participation in politics is in line with our commitment to equal rights and inherent dignity of women as enshrined in the UN Charter, the Universal Declaration of Human Rights, the CEDAW protocols and even in our national constitution."
She further noted that although they have to salute the affirmative action the Government of The Gambia has been doing by nominating women into political positions, it is time women start contesting political positions rather than just being nominated in order to increase women's participation in decision-making.
Women's participation is fundamental to democracy and essential to achieving sustainable development goals and peace, she further stated, noting that data has shown that countries with greater gender equality have higher gross national product and per capita income.
Women's leadership in corporate sectors of the economy results in improved performance, equitable laws and social programmes and budgets that benefit women, children and families, she said.
This was why they work to ensure policies are in place to enhance gender equity and, as such, sensitization activities of such are needed to create awareness and enhance female participation.
Equality and women's participation in politics and decision-making is a human right and not a privilege, she asserted.
Saikou Darboe, Lower River Region regional youth committee chairperson, speaking at a similar seminar organised by NCCE in the region on 28 August 2016, said The Gambian constitution has given every citizen the right to vote for and be voted for, provided they meet the age requirement.
"Youth participating in politics would result to government putting us at the heart of the priority," he said, adding that youths are less represented in key positions, which is why youth issues are never taken seriously.
"We have gathered on several occasions as youths and made resolutions, but they always stop at where we prepared them," he said, noting that this is because of lack of representation in key positions.
Mr Darboe urged political parties to give way to young people, adding: "give responsible positions to young people - we need seats in political parties and not running after, dancing and supporting political parties".
Youth participation in politics would make government youth-friendly, as well as bring about sustainable development, because they form the majority and their participation is very key, he added.
"It is time youths act now," he declared
"We always sit in our corners with our anger, he went on, noting that the only way to stop that is by participating in politics and taking their rightful positions.
According to him, by participating in politics they could dictate political parties in the country.
Mustapha Colley, a representative of the Executive Director of the Women's Bureau at Pakalanding, said politics does not stop at only being voted for or voting for someone, but also participating and taking part in decision-making.
"Politics is beyond singing, clapping, dancing and cooking and as such women should contest for positions as it is their right," he said, while urging them to go beyond being content with only being nominated for positions, to show that they have the knowledge and ability.
Government could also come up with policies of equal or fair representation of men and women in key positions, he added.
He said political parties could also come up with this in their executives to address the issue of gender inequality.
Isatou Bittaye, senior programme officer at NCCE, said through their interactions with the citizenry, it was evident that most young people have little or no interest in politics and governance; hence their low participation in elections and high voter apathy among them.
She added that although women are actively participating in politics, their participation does not translate to their equal representation in political offices as men.
She pointed out that for democracy and good governance to be attained, there must be inclusiveness and participation by the citizenry.
"The Gambia has ratified several international conventions that promote women's political participation, and the 1997 Constitution has guaranteed the right to political participation to everyone; yet women and youth representation in decision-making bodies continues to be challenged."
For sustainable economic and social development to take place, full and equal participation of women, men, boys and girls are required, she said.
Read Other Articles In Article (Archive)