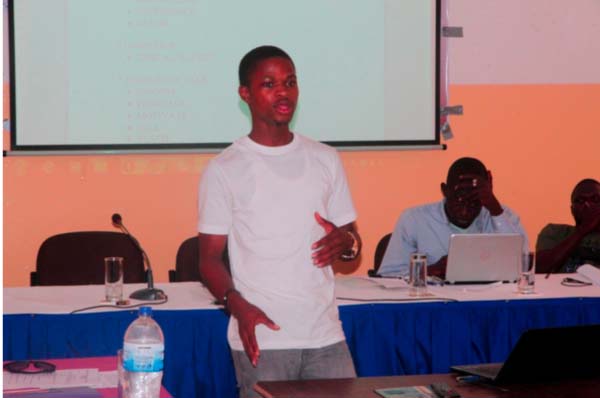 UNICEF, Young People in the Media in collaboration with the Department of Information Services and its relevant partners recently launched oneminutesjr films on child rights issues, at a ceremony held at the Baobab Resort as part of empowering all the young people in the country.
It all commenced inMansakonko in the Lower River Region, from 25th to 29th August 2014, when 20 pairs of eyes stared apprehensively at the two oneminutejr trainers, Chris Scheupp from Germany and David Djindjikhachvili from Georgia, as they explained the concept behind the 5-day workshop.
The workshop was organized by Young People in the Media and the Department of Information Services, with financial and technical support from UNICEF, as part of celebrations marking the 25th Anniversary of the UN Convention on the Rights of the Child (CRC).
The purpose was to empowering 20 young people aged 11 – 22 years-old from across the country with basic skills in film-making in order to produce 60 seconds, or one minute, videos on issues that affect them the most.
The videos would support awareness creation and advocacy efforts of UNICEF and its partners.
In a country where 32.2 per cent of the population is aged 10 –24 years (2014 Status Report on Adolescents and Young People in Sub-Saharan Africa, UNFPA), encouraging young people to take full advantage of the media is imperative in reinforcing their participation in national development, as well as helping them become stronger and more influential advocates of their rights.
This was why the participants were selected to ensure cross-cutting participation from the most vulnerable and hardest to reach children, including out-of-school children and children with disabilities.
Speaking at the launching ceremony, Sally Sadie-Signhateh, communication specialist at UNICEF, said that these short 60 seconds films were conceptualized by Gambian children aged 11-22 years from different parts of the country.
It was developed as part of last year's national commemoration of the 25th anniversary of the UN's Convention on the Rights of the Child, which was ratified by the Gambia government and domesticated into the Children's Act of 2005.
"Over the past decades, the Children's Act, as well as the UN convention and other international instruments have helped many children and young people in The Gambia, to increasingly enjoy their rights, as more children can go to school because education is free for all with more opportunities for girls," she said.
The statistics has shown that other children and young people in The Gambia who are not as fortunate are talking about those who are very poor; those who do not go to school; those who are often sick with preventable diseases; those who are abused and exploited; and, those who have disabilities.
"Many young people cannot find opportunities in their own communities, which often drives them to seek out greener pastures through illegal migration, sometimes risking their lives. Many do not receive information about HIV and AIDS and other sexually transmitted infections and are, therefore, at risk; while others never get the chance to speak at public platforms to promote their ideas."
"This is where adolescent young advocates come in support of the government, civil society and international organizations, the media and other bodies, to create awareness and visibility on issues of these vulnerable children."
Speaking earlier, the President of the Young People in the Media (YPM), Eric Samuel Ketter, said children and young people are often sidelined, especially when it comes to decision-making on issues affecting them directly or indirectly.
Ketter pointed out that this was why about a year ago, twenty young people between the ages of 11-22, met in the Lower River Region to make their voice heard and shared their stories in the 60 seconds videos, in which these young people devoted a lot of energy and commitment.
Read Other Articles In Article (Archive)