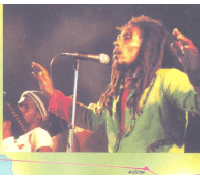 Reggae aficionados and Rastafarians around the globe last Monday celebrated in full tilt the anniversary of the death of Bob Marley, the King of Reggae. Bob was a giant musical icon whose militant voice has endeared him to many, including Africans and Europeans.
In this special edition of 'Entertainment' we bring you a detailed profile of the man in recognition of reggae and Rastafarianism.
According to the profile, Bob Marley was born Robert Nesta Marley in a small village of Nine-Mile in the Saint AnnParish, Jamaica. His father, Norval Sinclair Marley, was a white Jamaican born in 1895 to a British parents from Sussex. Norval was a Marine Officer and Captain, and a plantation overseer, when he married Cedella Booker, an eighteen-year-old black Jamaican, Bob Marley's mother. Norval provided financial support for his wife and child, but seldom saw them as he was often away on trips. Marley was ten years old when his father died of heart attack in 1955 at the age of 60.
Marley suffered racial prejudice as a youth, because of his mixed racial origins, and faced questions about his own racial identity throughout his life. Bob Marley and his mother moved to Kingston's Trench town slum after Norval's death. He was forced to learn self-defense, as he became the target of bullying because of his racial makeup and small stature 5'4" or 163CM tall. He gained a reputation for his physical strength, which earned him the nickname Tuff Gong.
In 1962, Marley recorded his first two singles, Judge Not and One Cup of Coffee with local music producer Leslie Kong. These songs, released on the Beverley label under the pseudonym of Bobby Martell, attracted little attention. The songs were later re-released on the album songs of Freedom, a posthumous collection of Marley's songs.
Read Other Articles In Article (Archive)