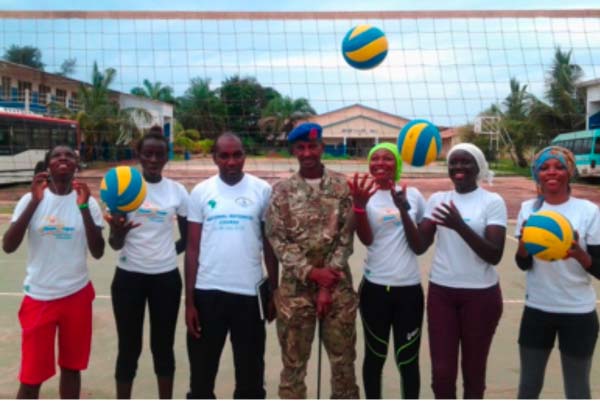 In the framework of a fruitful implementation of the African Dream Project and for the administration of the project The Gambia Volleyball Federation has been continuously dialoging with the stakeholders i.e. NOC, Ministry of Youths and Sports and Ministry of Education to additionally inform them about the project.
The management team led by project director Bai Dodou Jallow met with stakeholders at the Sports Council's office last week
In his welcoming statements project director Bai Dodou Jallow highlighted the activities undertaken during the first 4 months of the project.
He said the project was launched officially in February but before that, training had commenced at the centres in December 2014.
He stated that the executive of Gambia Volleyball Federation have identified a management committee led by him with the assistance from the treasurer and the press officer of the federation.
The management team runs the affairs and wellbeing of the participants and monthly inspection to all the centres.
He told the meeting the implementation of the African Dream Project's first quota was a success as The Gambia was ranked among the 5 top countries in the 37 beneficiary nations across Africa, he said, highlighting the minimal participation of girls as the biggest challenge.
"It is a commendable move and I must say I am impressed with the Gambia Volleyball Federation for the rapid change made in Gambian volleyball and this project is worthwhile," Pascal Camara of the National Sports Council stated.
He advises the federation to involve parents and keep monitoring the centre's coaches.
The development officer of National Sports Council, Ebou Secka, thanked the GVBF and applauded them for their steadfastness and commitment.
Government alone cannot do it; so when national sporting associations/federation implement such projects they must be commended for that, he noted.
"You should start sending in your reports so that we can file them in your file and we will read them at the National Assembly," Secka advised."The involvement of National Assembly members, politicians, communities, schools and parents is important and will help in the validation process."
The treasurer of Gambia volleyball federation, Marie Wadda, also expressed similar sentiments.
Meanwhile the president of Gambia Volleyball Federation, Yunusa Barry, has reaffirmed his continuous support to the African Dream project.
He advises the coaches to strategize their plans and make good use of the project to train and equip kids on the basis of the games.
The dream project is a pilot project of the FIVB president and The Gambia is among the few countries in Africa that have benefited from it; so it is a pride as well as a challenge, so we should work hard," Barry said.
He made these remarks on Saturday at centre one training ground in Banjul where he together with the project management team paid a courtesy call.
He acknowledged his Federation's willingness to promote grassroots volleyball."I want to see every school-going Gambian kid playing volleyball and that is the goal of Dr Ary Graca, FIVB president; that's why he is funding this project," he said. "He has dreamt to see that one day an African volleyball team on the gold medal podium at the world level; so we should make him to see that and God willing it will be The Gambia."
Read Other Articles In Article (Archive)