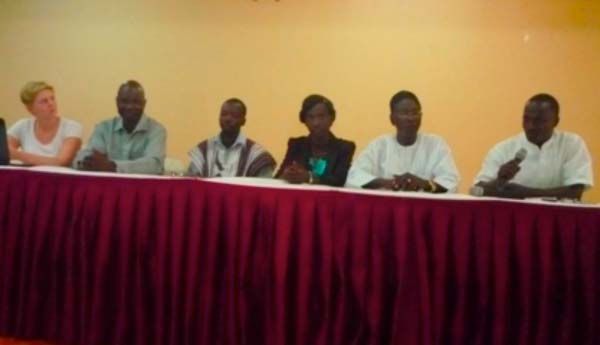 A three-day Minimum Initial Service Package (MISP) training course organised by the National Disaster Management Agency (NDMA) commenced yesterday at the Paradise Suites Hotel.

The training course funded by UNFPA brought together participants from all regions of the country.
Alhajie Sanneh, Executive Director of NDMA, in declaring the training course open, said the objective is to enhance an organisation identified and to lead the implementation of the MISP; prevent and manage the consequences of sexual violence; reduce HIV transmission; prevent maternal and newborn death and illness, as well as plan for comprehensive sexual and reproductive health care, integrated into primary health care, as situation permits.
He said the expected outcome of the training course is to equip participants with knowledge and skills on the MISP, which a series of crucial actions required to respond to reproductive health needs at the onset of every humanitarian crisis.
Mr Sanneh added that the training course would also enable UNFPA and partners to plan preparedness actions, especially for upcoming a response to the victims of the 2016 flood.
In addition, he said, the training course would equip key relief and humanitarian workers with crucial knowledge and skills, to enable them mainstream gender, reproductive rights and sexual health needs of people during emergencies.
"Planning is the bedrock of prevention. If we do not plan we will not be able to prevent," he added.
Their overall goal, he pointed out, is to increase the coordination skills of humanitarian actors and NDMA staff, noting that upon completion of the training course participants are expected to be able to advocate for SRH in crises; apply core concepts and techniques provided in the MISP; apply coordination skills for the implementation of the MISP, as well as produce an action plan to integrate SRH into national emergency preparedness plans.
He thanked UNFPA and everyone for their support in ensuring the training course takes place.
In his opening remarks, Abdoulie Camara, Public Health Emergency and Disaster Coordinator at the Ministry of Health and Social Welfare, said the day marked another important step towards disaster risk reduction in The Gambia.
He said looking at reproductive health issues during disasters, they would come up with recommendation on how they could respond and mitigate disasters when they happen.
Mr Camara noted that most of the time reproductive health issues are forgotten when there are disasters.
The training course targeted regional/municipal disaster management coordinators, NDMA focal persons (health, agriculture, education) in each of the 5 regions and 2 municipalities, NDMA staff from the central office, ministry of health personnel (including personnel from the RCH unit) and Gambia red cross staff.
Read Other Articles In Article (Archive)