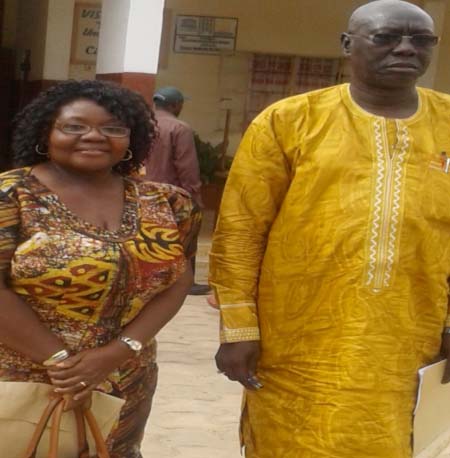 Gambia Senior Secondary School and Gambia Methodist Academy Friday received a sponsorship package from EUODOO Foundation, who sponsored 9 (nine) children of the ancillary staff of Gambia Methodist Academy last year.

This year, the foundation also decided to help children of the staff of Gambia Senior Secondary School, and these include five cleaners from Methodist Academy and four from Gambia Senior Secondary.
The EUODOO Foundation is the brain-child of Solomon Palmer and Ms Sikiratu Kamara, Sierra Leoneans residing in the United States of America.
Mr Palmer is an ex-student of Gambia Methodist Academy, and his dream was to help the children to get quality education and a good family life.
As a result, he has teamed up with Ms Kamara and other friends in the United States, and they have formed and registered the foundation in the United States of America.
They solicit funds from generous friends and associations to help the children of various schools in The Gambia to pursue their education.
The long-term goal of the foundation is to improve the academic performance of the children and the standard of life of their parents also.
Speaking on behalf of the philanthropists, the principal of Gambia Methodist Academy, Hannah Harding, said this was a very good gesture and a humble start.
She said members are hoping to mobilise funds in order to help them more in contributing to education, and material support towards making the life of both parents and children comfortable.
Harding further told the parents of the sponsored children to make sure they encourage their children to continue to do well at school, so that they could enjoy the sponsorship until they finish their schooling.
"We have all seen the importance of education, and it is because of education that is why he is able to help other children too to excel in life.
"You have to work very hard so that you in turn can help those in need, and there is no substitution to hard work," she emphasised.
In his remarks, the principal of Gambia senior secondary school, Lamin Jaiteh, also expressed delight and told the students and their parents not to take this initiative for granted.
"I will make sure I monitor the performance of these students, and see whether they are performing to standard. I will ensure they are punctual and regular in school and maintaining discipline, because it is also vital in education," he added.
The children should be more than happy to be among the chosen ones because many people wanted to have it, but they were unfortunate to get it, he continued.
The parents echoed similar sentiments, and thanked the foundation and the people behind it for their wonderful benevolence.
They added that they would ensure that their children perform up to expectations, and take their education very seriously, so that this initiative would continue to help them and others.
Read Other Articles In Article (Archive)