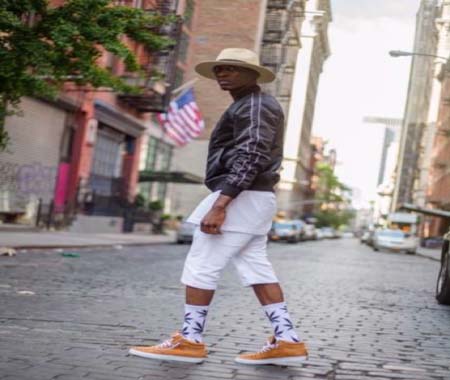 Mohamed Mansaray, better known in the music business as Slim Q, was born in Sierra Leone, on 21 July 1988.

From a youngster, he developed a love for music, particularly Reggae, R&B & Hip Hop, which he listened to and was influenced by the likes of Tupac, R Kelly and Bob Marley.
Growing up in Sierra Leone, a country with a well-documented history of a brutal civil war, life wasn't always music for Slim Q.
He attended Cathedral Primary, where he started singing at the age of 12.
He released his first single called, "Baby A Swear", with fellow musician Vivian Rowe, AKA Skull, who subsequently passed away after a brief illness.
With the continued civil unrest in Sierra Leon, Slim Q and his family escaped to neighbouring Gambia, where he spent most of his childhood.
He graduated from Archdeacon George High School, and then went back to Sierra Leone, where he spent two years before migrating to the USA in 2009.
Now residing in New York City, Slim Q continued his love of music: writing, composing and performing.
He has showcased his talent at Webster Hall, Faces in the Crowd, Pyramid and Maryland's famous hall, Hampton Conference Center.
These days, Slim Q can be found working tirelessly in Lounge Studios NYC, while simultaneously holding down a 9-5 job at Partners in Care to support his career.
He has teamed up with music producer, Matic, to produce a unique blend of R&B and Hip Hop. Together, they have released his second single called "All My Love", featuring Chanel Nicole.
You can catch his music on Spotify, YouTube, Vevo, Google Play and other music media.
Read Other Articles In Article (Archive)