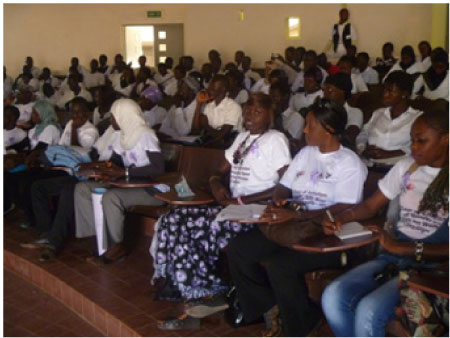 Youth Alliance The Gambia, in partnership with African Women Development Fund, recently held a daylong programme to commemorate the 16 Days of Activism on Violence against Women.
The event was held at Gambia College in Brikama, Kombo West Coast Region, and centred on the theme, 'From Peace in the Home to Peace in the World: Let's Challenge Militarism and End Violence against Women!'
The theme highlights the role militarism plays in perpetuating violence against women and girls.
Joe Bongay, executive secretary of Youth Alliance The Gambia, said the event is part of bringing to the fore struggles of women.
Youth Alliance The Gambia joined the rest of the world to mark the 16 Days of Activism on Violence against Women, observed every year from 25 November to 10 December, he said.
This, he added, was necessary because of the disadvantages women face due to the disproportionate distribution of resources and gender roles in society.
He added that the majority of the world's 1.5 billion who live on less than one dollar a day are women and constitute victims/survivors of violence both in the domestic and public spheres.
Violence against women including rape, incest, battering among others, continues to reoccur, he added.
Youth Alliance The Gambia is pleased to co-organize this event bringing attention to an issue that does not receive the attention it critically needs: violence against women and girls.
Martha Gomez outlined the types of gender-based violence as follows: physical violence, psychological violence, emotional violence, verbal abuse, sexual harassment and domestic violence.
She explained that the 16 Days of Activism against Gender Violence is an international campaign.
Participants chose the dates November 25 as International Day against Violence against Women, and December 10 as International Human Rights Day, in order to symbolically link violence against women and human rights and to emphasize that such violence is a violation of human rights.
The 16-day campaign has been used as an organizing strategy by individuals and groups around the world to call for the elimination of all forms of violence against women by raising awareness about gender-based violence as a human rights issue at the local, national, regional and international levels, strengthening local work around violence against women, and establishing a clear link between local and international work to end violence against women.
For her part, Madam Therese Carlos, a gender activist from Gambia College, defined gender-based violence as act of inserting or inflicting violence either internal or external to human being.
She said there are many forms of it, ranging from sexual violence, to date rape, indecent assault, mental rape, statutory rape, and incest.
Other speakers on the occasion were Pastor Chibuweze, Oustaz Sillah Drammeh and Ms Ida Jeng of Gamcotrap, who all made presentations on gender-based violence.
Read Other Articles In Article (Archive)