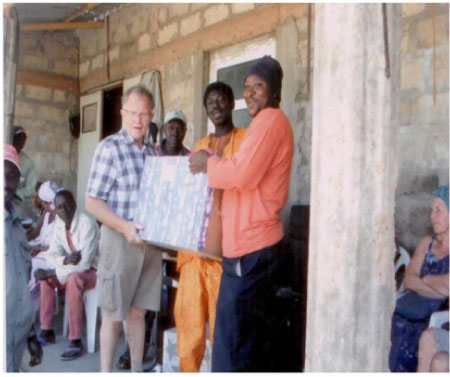 For more than ten years, Dutchman Bennie Ahlers and Bennie Helpt Gambia Charity convinced and collected materials, no longer needed, from fellow Hollanders for use in communities and facilities in The Gambia.
They ranged from hospital, gardening and school materials to clothing.
Working alongside Gambian coordinator Jereba Sanneh of Sukuta, Bennie's lone-man charity crusade proved a lifeline for needy communities in The Gambia in the past ten years bringing over 100 containers of materials for health posts in many areas in the Kombos, including Sukuta, Brufut, Banjulinding, Yundum and Brikama where they built a maternity wing, in addition to a landmark health facility in Jappine and a garden in Manduar.
Communities in Latrikunda German have received regular supplies of used clothing from Bennie's charity.
His method is simple and transparent. "I approach families and individuals in Holland and convince them that the materials they no longer find need for are still useful to uplift lives in communities in The Gambia. They respond by packing such items and other donations which we bring here to make improvements and better standing to lives and facilities benefiting whole communities,'' he said.
The latest allotment of supplies from Bennie included 532 boxes of used clothing, distributed Saturday as a special Christmas gifts from people in Holland to the peoples of Sukuta and other parts of The Gambia.
Speaking at the presentation, Bennie first extended season's greetings from Dutch donors and explained that the materials are given in the spirit of Christmas, adding that giving gifts and charity is even recommended in Islam, the religion widely practised in The Gambia.
"In Holland and most parts of Europe, a recession has meant that money donation is hard, but there is still lot of goodwill among people to donate materials," he remarked.
He urged the beneficiaries to share the contents they found not fitting them with their neighbours.
His Gambian coordinator Jereba Sanneh briefed the audience on the ten-year history of Bennie's charity work in The Gambia, which he said has helped to uplift communities across The Gambia.
He thanked the Dutchman, his fellow Gambian assistant, Musa Samusa, among others.
The presentation was chaired by Abass Manneh, a prominent educator and the charity's focal contact man in neighbouring Brufut.
Read Other Articles In Article (Archive)