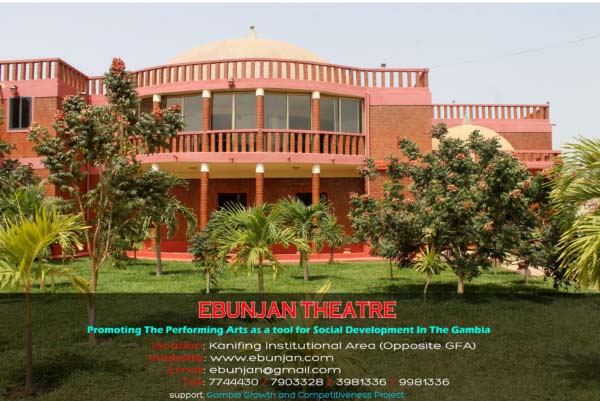 Eleven young Gambians put up an impressive cultural performance at the Ebunjan Theatre on Friday 24 July, much to the delight of a large audience.
It was a complete theatre performance involving dance, poetry, music, drama and acrobatics, which kept the audience entertained throughout the show.
The performance featured four entertaining dance routines choreographed by Eddie Mends-Cole. They included a modern African dance, a Mandinka traditional dance, a Jola traditional dance, and a Wollof dance.
The ensemble exerted so much energy, flair and passion into their dance performances that made it a spectacle to behold.
The main event of the evening was a drama staged under the theme: "Traditional culture versus European culture".
The drama was adapted from two epic poems: Song of Lawino and Song of Ocol written by renowned Ugandan poet Okot p'Bitek, which tackles the "African crisis of cultural identity". It tells a story of Lawino, a beautiful young woman who loves her African culture and heritage and continues to live the traditional way of life passed down to her by her ancestors, and her husband Ocol, who unlike Lawino, has rejected everything African and has assimilated into European culture.
The verbal exchanges between Lawino and Ocol during the play are unfiltered, feisty, expository, thought-provoking and very funny.
Lawino on her part describes Ocol as "rude, arrogant and spiteful" and Ocol in retaliation calls Lawino "primitive, uneducated and ugly".
The play is the first of its kind as it is the first play in the theatre's short history to be delivered in the local language Wollof.
Aside from a wardrobe malfunction which occurred during a dance routine, the cast and production team of Ebunjan Theatre did themselves proud for what was truly a superb and memorable show.
At the end of the event, the theatre graduates walked away with certificates presented by the Project Coordinator of Gambia Growth and Competitiveness Project, Mr Tamsir Manga, to mark the completion of a four-month intensive training programme in theatre arts.
The graduates were urged by Mr Manga not to rest on their laurels but to seek to improve on their achievements at the theatre to reach greater heights in life.
Read Other Articles In Article (Archive)