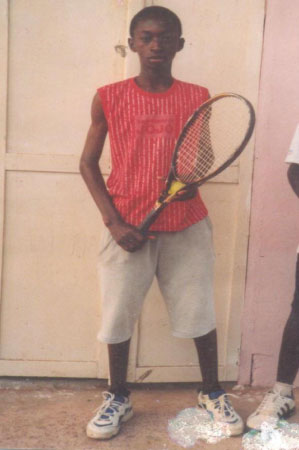 Lamin Drammeh, a promising young tennis coach from the Gambia Lawn Tennis Association, is set to attend a three- week international training camp for tennis coaches across the continent from 27 November to 17 December in the Senegalese capital of Dakar.
The training camp, Pointsport was reliably informed, is organised by the International Tennis Federation (ITF) to enhance the capacity of the continent's tennis coaches on the theoretical and practical aspects of the minority game.
Drammeh, who took part in a series of similar initiatives in Dakar sometime ago, told Pointsport in an interview at the weekend that he is extremely delighted to be associated with what he called high quality training camp and is determined to gather lots of knowledge to share with the rest of his colleagues at the Gambia Tennis Association (GTA).
According to Drammeh, he was chosen by the GTA to take part in the training camp thanks to the support of Phillip Akibogun, secretary general of the GTA, whom he said informed him of the initiative few days ago.
Drammeh, who has spent 15 years in the tennis arena, said: "The training will help me a great deal in trying to upgrade myself as an aspiring coach but I must thank the tennis association for identifying me among my colleagues to participate in this worthy course."
The young tennis coach sensation, who also took part in a similar course in Dakar in 2009, said he would do well to live up to expectations.
"I will do my best to achieve the desired result when the training camp begins in a couple of weeks," Drammeh added.
He also used the platform to thank the Almighty Allah for giving him the strength and ability to reach this far while lashing praises on his parents for encouraging him to take up tennis career with all seriousness.
Drammeh is scheduled to leave Banjul this Sunday.
Read Other Articles In Article (Archive)