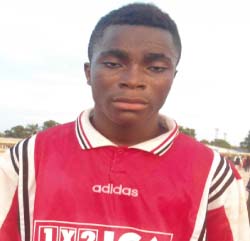 The 2011/12 knockout tournament in Bakau continues to produce surprising and shocking results as the competition enters its most crucial stages involving 20 teams.
The results so far are not going in favour of so-called favourites including Linguere, whose disastrous show in both campaigns (league and knockout) ended in misery after their latest elimination at the expense of underdogs the Late F. Drammeh who entertained them to a humiliating penalty shootout success.
The result against the Late F. Drammeh few days ago was met with great disappointment by their (Linguere) fans, who are becoming increasingly frustrated with the club's persistent poor run of disastrous form.
The defeat against the Late F. Drammeh has also confirmed Linguere's catastrophic campaign that has seen them fail in an attempt to re-discover their trophy-hit campaign four years ago as expected.
This means Linguere are all but out of the league automatically, with a possible best losers' hope in the knockout remaining to be seen.
The other big casualty of the knockout cup competition is Zuwa FC, last year's finalists in this competition.
They were beaten 1-nil by Bremen Border, who also held them to a deadly goalless draw in the preliminary round of the league cup campaign barely a month ago.
Zuwa FC's hope of adding one more accolade to their Super Cup title largely depends on the league.
The team, under the guidance of player-coach Yankuba Jammeh assisted by Sutay Marong, is expected to return to action with a crucial and decisive clash against Kachikally, who are already through to the second stage of the knockout competition.
Kachikally were given an automatic qualification to the next stage following the disqualification of Mamakoto, who have been kicked out of the entire competition for indiscipline.
Ron Mango's hope of defending their crowd has once again faded away following their elimination in both competitions the first of which was their exit from the league as a result of their 1-nil defeat to Milan, who are considered one of the title favourites.
Their latest in a series of dismal showing came during their shocking elimination at the hands of Tos Achief, who are the least unimpressive side among the 24 teams in this year's campaign.
They conceded the highest number of goals and scored on few occasions but took the bull by the horns to cause the biggest upset of the entire campaign by beating last year's double champions in a penalty shootout last Friday.
Another surprising result came from Junior Arms's encounter with Senior Lions, which ended 2-nil in favour of Senior Lions much to the surprise of many followers of Bakau Nawetan.
Senior Lions, comprising mainly veteran star players, should be thankful to their star striker Ousman Njie, whose brace has sent them into the next round of the knockout competition.
More results on Bakau Nawetan and other Nawetan centres will be available to you in our subsequent editions.
Read Other Articles In Article (Archive)