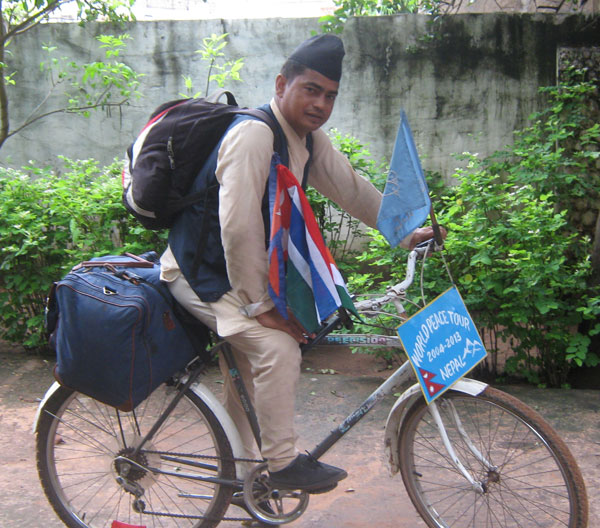 Mr. Lok Bandhu Karki, a world peace cyclist arrived in the Gambia last week after visiting sixty-five countries, including 37 in Africa with the aim of preaching the message of peace.
In an interview with this paper on Monday 3rd August 2009, the 33- year-old cyclist said many countries are in crisis and crimes, such as stealing, robbery, kidnapping, terrorism and other forms of evil activities. He said peace is fundamental and the greatest thing in life as the whole world needs a lasting peace.
"We need to plant a seed of peace in the minds of the people and governments of this earth to ensure that all living creatures can live happily on this earth of ours.
"The idea of this peace-preaching tour came when I looked at the situation happening in other countries and cannot do anything to stop it. I then decided to meet people and dialogue with them to bring peace in the world", he stated.
According to him, he started preaching in schools, colleges and universities before embarking on a tour in December 7th 2004. He noted that his target is to visit 113 countries by 2013.
He stated that the world needs to reunite to eradicate all forms of violence, put a stop to producing weapons, and pull out the roots cause of bribery and corruption in society.
Mr. Karki, who was a one time Mathematics and Sociology teacher, said he has been passing this message of peace to his students even well before the commencement of the tour.
Read Other Articles In Article (Archive)