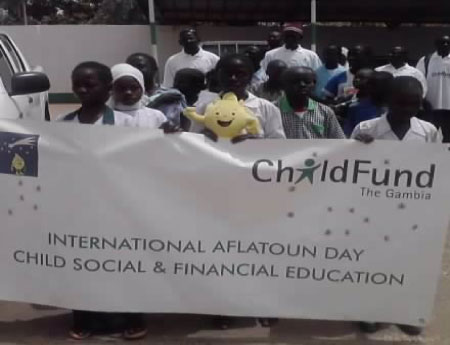 Child Fund International The Gambia, on 22 March 2012 joined the rest of the international community to observe World Aflatoun Day for Children under the theme: "Aflatoun in my community".
Aflatoun is an Arabic word meaning "explore" with the goal of helping young children to understand their rights, responsibilities and the worth of citizenship to make best use of available resources.
Aflatoun targets school-going children between the ages of 6 and14, geared towards helping children to believe in themselves, understand their rights and responsibilities, adopt the culture of saving and the significance of self-reliance among others.
Speaking at the Ministry of Basic and Secondary Education, (MOBSE) in Banjul, Horija Touray Dibba, Infant and Child coordinator, said the day is celebrated every 17 March around the world although they had to commemorate it five days later.
The aflatoun project in The Gambia involves 18 lower basic schools in West Coast Region, she said,"At youth level, we train youths to be job creators and not job seeks," she indicated.
In 2007 Child Fund and the MoBSE launched the aflatoun project in West Coast Region, she noted, adding that 2,160 children are benefitting from the project.
Responding to questions posed by the students, Hon. Fatou Lamin Faye, Minister of MoBSE, said her ministry has been supportive of the project, noting that they have been collaborating with Child Fund to empower children to be responsible adults.
"As a ministry we will give child Fund all the support to help children become responsible members in society," she said.
She further revealed plans to be included in the school syllabus, while encouraging other schools to embrace the idea.
"Going to school now is no longer for the few privileged," she remarked while urging students to take their education seriously.
Hon. Faye indicated that her ministry will do all it could to create an environment conducive for children to grow and do well in society.
In his remarks, Child Fund Director Eustace Cassel said that since 1984 they have been working to serve Gambian children.
"We are interested in child health and security, confidence, building skills among others," he said, adding that aflatoun helps children to not only be saving money but also to better manage resources.
He noted that their working with the federations in West Coast Region has been largely successful.
For his part, Mr Suwareh, Regional director in Region 2, Brikama, indicated that aflatoun has yielded success in quality education, which his ministry is striving to achieve.
He finally urged the pupils to be committed, disciplined and hardworking.
Read Other Articles In Article (Archive)