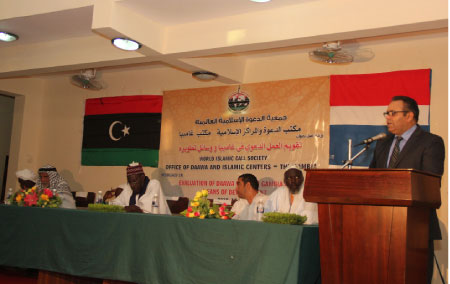 The World Islamic Call Society (WICS), a Libyan organization in The Gambia, on Saturday 6th October 2012 held a workshop on Daa'wa at the headquarters of the Gambia Supreme Islamic Council in Kanifing.
The theme of the workshop centered on the evolution of Daa'wa and means of development, and brought together about a hundred participants mainly imams, scholars and Islamic teachers.
In his welcome remarks, the acting director of WICS Banjul office, Nasgr Al Tgaazi, extended warmed felicitations to Gambian scholars and Muslims in general.
He reaffirmed his institution's commitment in propagating the teaching of Islam and calling people to Allah.
The WICS acting director informed participants that the support being rendered to Muslims by his institution comes from the Libyan people, who committed their resources in the cause of Islam.
"They don't do it to ask for any reward from people, but only for the shake of Allah," he said.
He noted that the forum would avail the participants the opportunity to identify the weaknesses and challenges in Daa'wa (calling people to Allah).
He called on Muslims in the country to join hands together in strengthening the calling of people to Allah.
Imam Sherif Bajan of the Gambia Supreme Islamic Council conveyed the council president's greetings to the WICS and the participants in general.
While assuring them of the council's continued resolve in propagating Islam, he noted that their gathering is in line with the teachings of Islam.
Deputising for the Minister of Foreign Affairs was Bambo Jammeh, who extended his Ministry's greetings to the WICS and the workshop participants.
He told the gathering that The Gambia was among the first countries to recognize the National Transitional Council of Libya.
He assured them of their continued collaboration and partnership in the propagation of the word of Allah.
The prominent speakers at the event included Dr Omar Jah, Alh. Banding Drammeh, Omar Kuraish and Muhamed Lamin Sillah.
Sheikh Sidia Ceesay, principal of Tallinding Islamic Institute saluted the organisers for what he called a worthy gathering.
Read Other Articles In Article (Archive)