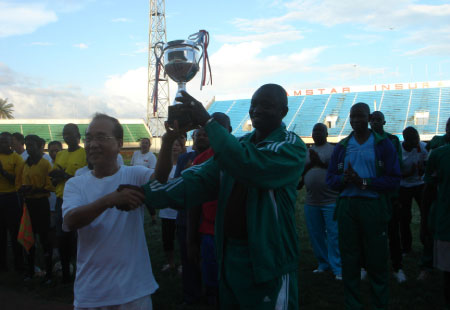 As part of activities in The Gambia marking the 101st national day of the Republic of China on Taiwan, a friendly football match was on Thursday 4th October 2012 played between the Taiwan embassy staff and officers of the Gambia Armed Forces (GAF).
The match played at the Independence Stadium in Bakau ended in favour of GAF, after scoring 13 goals against the 10 goals of the embassy staff.
The friendly game began with a penalty shootout during which GAF scored 10 goals and the embassy scored 7.
However, during the match proper, both teams increased their scores with GAF registering 3 more goals likewise the Taiwanese.
Speaking shortly before the start of the match, the Taiwanese ambassador to The Gambia, Samuel Chen, said the match was not a competition; rather a friendship game.
"This is not about winning or losing, but what is important is friendship, not necessarily winning," he said.
He added: "I know that football is very popular in Gambia and you guys (the military officers) are much younger than our team, and that we may not win but at the end of the day our friendship wins."
He recalled that a similar friendly game was played in April this year, when President Ma Ying-jeou of Taiwan visited The Gambia.
Harry Sambou, permanent secretary at the Ministry of Defence in Banjul, congratulated the Taiwanese community in The Gambia on their national day.
"This is a manifestation of the broad friendship between GAF and the embassy," he remarked.
He stated that over the years, the GAF have received the continuing support of the Government of Taiwan in terms of capacity building, with many of their men undergoing military training in the Island country.
The GAF chief of defence staff, Lt. General Ousman Badjie, made similar remarks, while acknowledging the support the ROC is rending to the country.
He said that many military officers have benefited from capacity building in Taiwan over the years, and thanked Presidents Ma and Jammeh.
"This is another avenue for us to foster our already existing cordial bilateral relationship, and I congratulate you in advance on behalf of our commander-in-chief and GAF for a happy national day," he said.
Read Other Articles In Article (Archive)