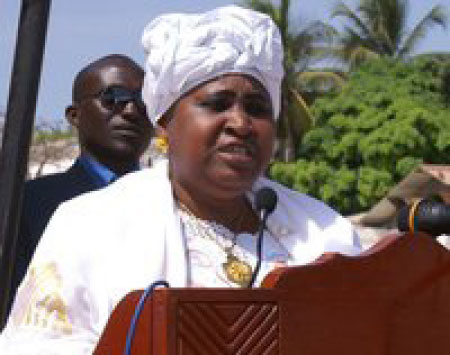 In The Gambia, the advancement of women and girls has been at the forefront of the Government's agenda and is a priority for President Yahya Jammeh, the vice president and minister of women's affairs, Aja Dr Isatou Njie-Saidy, has said.
The vice president was speaking Thursday at the opening of the Africa Network Information Center (AfriNIC) public policy meeting, which also coincided with commemorations marking World Telecommunications and Information Society Day, yesterday at the Kairaba Beach Hotel.
Under the theme: "Women and Girls in ICT", this year's world telecommunication and information society day, is determined to harness the full potential of ICTs for the benefit of women and girls by eliminating gender disparities and empowering them to meet their goals and aspirations.
It aims to ensure that this significant female half of the world's population will march forward as equals.
According to the vice president, empowering the female folks and uplifting their social status has been President Jammeh's major preoccupation, characterized by increased enrolment of females in our education system through the President's Empowerment for the Girls Education Project (PEGEP).
"Gambian women have risen to higher positions in government, the Cabinet and even the security forces. More female judges are being called to the bench, more female engineers created and some heading high technical positions," she stated.
The Gambia government, she added, has realized the need for the non-discriminatory inclusion of women and girls in the socio-economic advancement of the country and thus has made gender an integral cross-cutting activity in all pillars of our National Information and Communication Infrastructure (NICI) policy.
"We will ensure that women involved with the creation of an African Computer Emergency Response to address cyber security issues," she said, noting that it is pleasing to see that as Africans, we are drifting from our dependency syndrome as before by gradually having the management of our Internet resources in our own hands.
However, she went on, despite this progress and with the fact that a growing number of African nations are taking over the administration of their country code top level domain names, many are yet to be in charge of theirs.
This, she noted, includes The Gambia, though efforts are being undertaken to change this status quo, and thus she called for the support of all in this endeavour and in many forms possible.
"The ICT infrastructure developments taking place such as the construction of the submarine cable landing station, national telecommunications transmission backbone, internet exchange point and an e-government platform for government, including a government datacenter are crucial developments that would support CIT development in the country," she explained.
Also speaking at the ceremony was Adiel A Akplogan, CEO AfriNIC, who said that for the past 12 days as part of what is now the Africa Internet Summit, more than 100 people have been trained in seven tracks of training followed by tutorial on DNSSEC, RPKI, routing, among others.
According to him, it is time for our communities to take full control of their ICT future.
"As a powerful catalyst, the internet holistically should be fully integrated in our long-term development strategy," he stated.
Read Other Articles In Article (Archive)