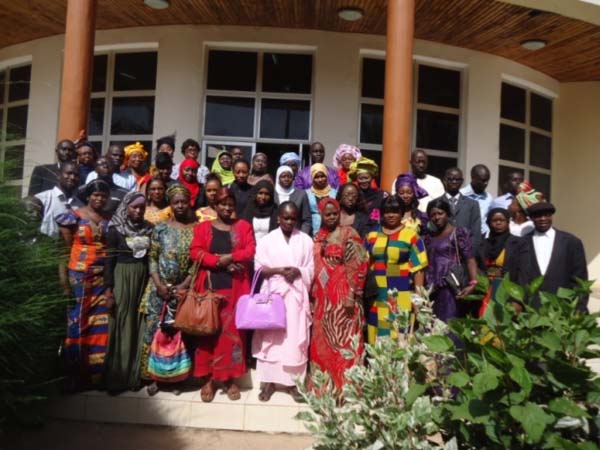 The National Council for Civic Education (NCCE) recently convened a two-day seminar on the advancement of women and youths participation in politics.
Held at the NaNA conference hall, the training session brought together representatives of political parties, and was funded by the UNDP.
The acting chairman of the NCCE, Alhaji Momodou M. Joof, said the NCCE was established by an Act of the National Assembly depicting the important role government institutions could contribute in trying to enlighten the Gambian people on their new national development blueprint.
The NCCE is an advocate of an all-inclusive democracy, development and social cohesion, Joof said.
According to chairman Joof, the NCCE Act further mandates the council to create and sustain awareness of constitutional democracy for the achievement of political, economic and social stability through civic education.
Underlying the legal mandate as a framework for activities, the following strategic goals have been set, to raise the political and civic consciousness of all citizens to assume political and civic responsibilities and duties, and to cultivate an environment of democratic continuity in The Gambia that will enable all citizens irrespective of creed, gender or age.
It was also to bring about a change in attitude that would emphasise the spirit of self-reliance and patriotism, and to enhance public awareness and concern for national development issues.
As regards matters of civic duties as enshrined in the 1997 constitution, Mr Joof said if diversity is to be taken as a blessing to humanity, then it was also logical to reason that the world could move forward happily together only by embracing the virtuesof diversity and the ideals of globalization.
Therefore, he added, there is need to recognise the collective dignity of humanity and collaborate in creating an environment where all could grow and progress side-by-side towards the collaborative fulfillment of national aspirations.
He added that a vibrant democracy anywhere thrives on the support of the entire populace, based on their level of awareness, understanding and acceptance of the principles and objectives of the constitution as a living national instrument.
He further noted that the focus of the country is to contribute in raising development aspirations, hence the significance of the training session could not be overemphasised as local leaders from various political organizations and diverse places came together to discuss pertinent issues on civic education.
Read Other Articles In Article (Archive)