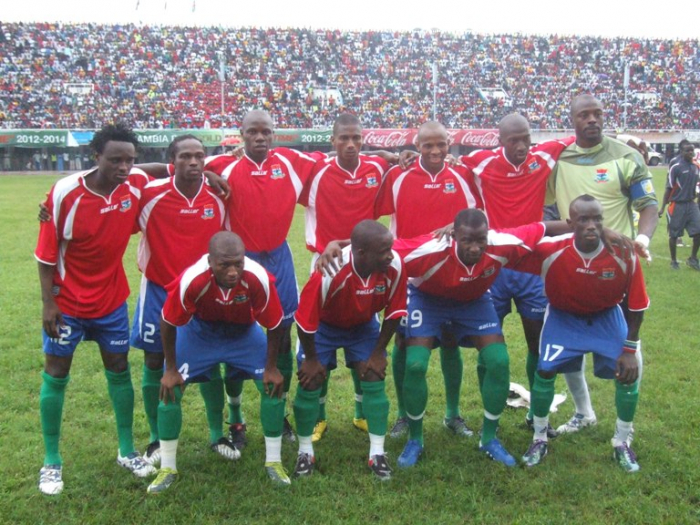 The Gambia's Scorpions beat Namibia 3-1 to collect the first three points in the preliminary rounds of the 28th African Cup of Nations GABON/GUINEE EQUATORIALE 2012 weekend opener at the Independence Stadium in Bakau on Saturday.
The Scorpions got off to a bright start creating a series of half chances, but Momodou Ceesay's solo effort was frustrated by the visitor?s defense in the opening minute.
The Scorpions opened the scoring through a header from Sainey Nyassi with the ball coming from Aziz Corr Nyang?s cross after Ousman Jallow's pass in the 11th minute.
Two minutes later, Momodou Ceesay scored a close range double, again from Ousman Jallow's clever pass. Meanwhile, Kebba Ceesay was booked in the 15th minute for a rough tackle on a Namibian midfielder.
As play progressed, Momodou Ceesay made a sensational contribution to find Aziz Corr Nyang whose efforts went wide in the 19th minute.
Ousman Jallow scored the 3rd goal following a sloppy display from the Brave Warriors of Namibia defense in the 34th minute.
Mustapha Jarjue received a yellow card for allowing a fast play in the 59th minute to the disappointment of fans. Mustapha Jarjue could have extended the lead, but failed to capitalize on a clever lay-off by fans-favorite Momodou Ceesay in the 68th minute.
Gambia made its first substitution when Momodou Ceesay was replaced by Dawda Bah, which was followed by another chance when Njogu replaced Sainey Nyassi in the 75th and 76th minutes respectively.
Njogu Demba made his presence felt with a powerful long range shot that went away in the 78th minute.
Namibia who are hoping to qualify for the third time in their history, after making it to the 2008 finals in Ghana and in 1998 in Burkina Faso, responded in the 92nd minute from Risser to take home a lone goal.
Following the withdrawal of Mauritania from the group, Group F's next game will be in the weekend of October 8-9 2010, when the Scorpions will travel to Burkina Faso.
Burkina Faso will then host Namibia in March 2011, while the Scorpions who would have taken on Mauritania will be on holiday.
Paul Put and his men will resume their campaign in the first weekend of September 2011, when they play away to Namibia before hosting Burkina Faso in Banjul in October 2011.
Read Other Articles In Article (Archive)