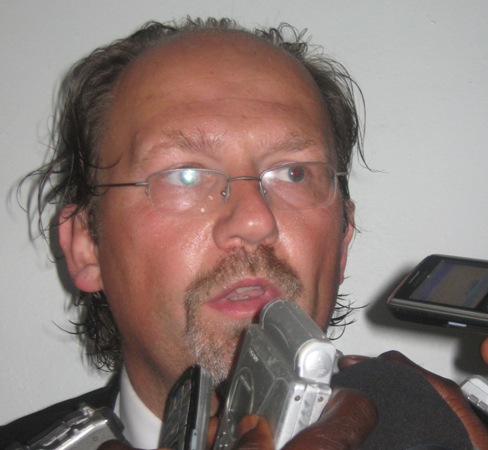 Namibian Coach Tom Saintfiet has praised the Gambia's national Scorpions team for their 3-1 victory against his team on Saturday at the Independence Stadium in Bakau.
Speaking to the reporters shortly after the match, he said the Gambia won because they were the best team of the day.
"I was disappointed with the result, but am not surprised, if you follow the Namibian media then you will know that I was complaining a lot about the poor preparation," he added.
He stated that for the past six months he had not seen his players, adding that they only came together as a team for the first time on Friday.
Coach Saintfiet pointed out that the team had no friendly and training camp, noting that the Namibian league has been off for the past four months, and his players were not fit.
He added that though they came with only two professional players, they were not ready for Gambia, as the Gambia had a very strong team, and they had a better preparation before the game.
Saintfiet said during the first 30minutes of the game his team was not in good shape, but during the second half they created four chances, and managed to score one.
Commenting on their chances of qualifying in the group stage, Coach said the only way to bail them out of the group is to stand firm and win their two home matches against Gambia and Burkina-Faso, and try to secure other vital points in their remaining games.
Namibia are hoping to qualify for the third time in their history after making it to the 2008 finals in Ghana and in 1998 in Burkina Faso.
Reacting to the victory, the Gambia's national team coach Paul Put described the victory as a very good start for the Gambia, noting that he only got three days to prepare his team.
He called for more friendly international matches to be organized, for better preparation ahead of the qualifying stage.
The next Group F game will be on the weekend of October 8-9 2010 when the Scorpions will travel to Burkina Faso.
Burkina Faso will then host Namibia in March 2011, while the Scorpions who would have taken on the group's absentees, Mauritania, will be on holiday.
Paul Put and his men will resume their campaign in the first weekend of September 2011, when they play away to Namibia before hosting Burkina Faso in Banjul in October 2011.
Fixtures
8,9 or/ 10/10/2010
Burkina Faso Vs. Gambia
25,26 or/ 27/03/2011
Burkina Faso Vs. Namibia
03, 04 or/ 05/06/2011
Namibia Vs. Burkina Faso
02, 03 or/ 04/09/2011
Namibia Vs. Gambia
07/08 or/ 09/10/2011
Gambia Vs. Burkina Faso
Read Other Articles In Article (Archive)