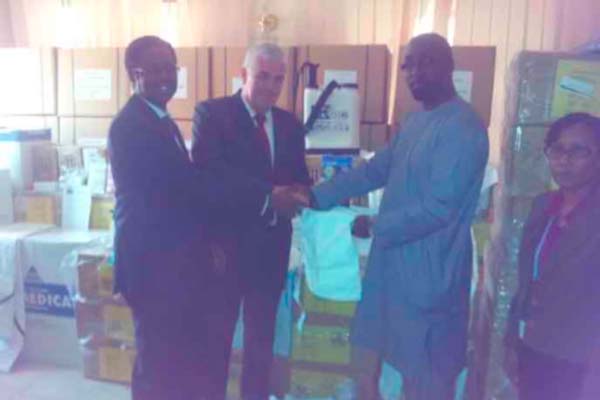 The World Health Organisation (WHO) with support from the British Embassy recently donated medical equipment to the Ministry of Health in Banjul to help prevent Ebola.
The presentation ceremony was held at the WHO office in Kotu, and the donated items included 300 heavy duty PPEs, triple packaging for safe handling and shipment of suspected EVD samples, 500 copies of hand hygiene posters, 100 body bags, 500 copies of safe EVD sample collection booklet, 500 copies safe EVD sample shipment booklet, 500 copies of EVD case management handbook, 5 billboards on EVD signs and symptoms.
Total cost of the items was estimated to be about D1.5 million.
Speaking at the handing over ceremony, the UK ambassador to The Gambia, Colin Crorkin, said The Gambia has always been Ebola-free, and that the level of preparedness in the country is very high.
He added that the country is open for business and tourism, and hoped that tourists would be flooding back into the country for the rest of the season and in the next season.
He was delighted to hand over the equipment to add to what WHO is doing, Crorkin said.
Dr Charles Sagoe-Moses, WHO country representative, said the risk of transmission of the virus to the neighbouring countries continues to remain high, and there is no room for complacency.
He noted that countries which are not yet affected like The Gambia, needed to reinforce existing Ebola preparedness and response measures that were developed since March 2014.
He said importantly there is a need to intensify support to strengthen surveillance, investigation of alert cases and clinical management.
According to the WHO official, in addition to these items, the WHO country office also received about D800, 000 from the UK Embassy in Banjul for the procurement of essential medical and non-medical items for the Ebola treatment center based at the TB sanatorium in Banjul.
While reassuring the gathering, Dr Sagoe-Moses said they would continue to work closely in ensuring that the country remains free from Ebola.
Makkie Taal, permanent secretary at the Ministry of Health, said The Gambia is free of Ebola, and was pleased that they have been working very hard since the onset of the outbreak in some West African countries.
He added that they have been preparing from day one up to now, and that this donation will add strength to their preparedness and ability to demonstrate clearly that they could protect the Gambian people from this dreadful disease.
A lot of effort has been made not just by the ministry but through a multinational effort, he said, adding that they have three centers which have been renovated and prepared for Ebola cases located in the Greater Banjul area, Soma and Basse.
Read Other Articles In Article (Archive)