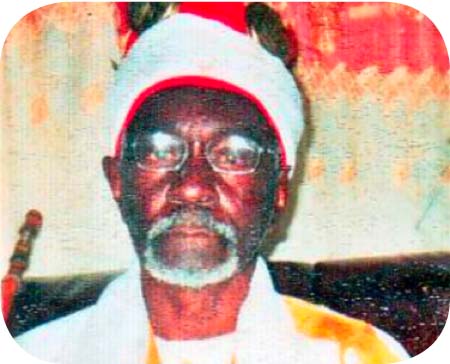 The trial of Caliph General Muhideen Hydara of Darsilameh Sangajor and the village Alkalo Buyeh Touray, Monday proceeded before Magistrate O. Cham of the Brikama Magistrates' Court, with the Caliph General continuing his evidence-in-chief.
In his testimony, the Caliph General said he knew the first prosecution witness, Momodou Lamin Jarju, the chief of Foni Kansala.
Asked by his defence counsel Mboge, if he received any message from the chief on 29 July 2014, he said he did not receive any message from the chief.
However, he knew the chief's badge messenger, Seedy Gibba, the 2nd prosecution witness, but never received any message from him nor did he see him.
He said he did not know the former imam of State House, Imam Abdoulie Fatty, nor did he receive any massage regarding the day for the Eid prayer.
When counsel Mboge asked if he heard any massage from the radio concerning the day for the Eid prayer, he said he did not hear any news from the radio nor from the television.
He added that he did not also get any message from the alkalo regarding the prayers.
Maline Hydara was the then imam of Darsilameh Sangajor, he said, adding that he did not receive any massage about the day to pray the Eid'ul Fitr.
Asked by his counsel whether he was aware that people prayed on two different days in The Gambia, he replied in the affirmative, adding that it was because in many places in the provinces, like Kiang, Baddibu and others, people prayed on Tuesday, which was the day they also prayed.
He was not instructed by anyone to lead people in prayers; he did lead them because the imam was not feeling well.
He said the imam had never been absent for the Eid'ul Fitr prayers.
They prayed on Tuesday because they did not see the moon on Sunday but on Monday, which was why they prayed on Tuesday, he said.
Giving the Islamic guidance on when to perform Eid'ul Fitr prayers, he said the prophet (PBUH) said at the 29th day of Ramadan, if the moon is sighted, the following day people should pray but if on the 29th day the moon is not sighted people should complete the 30 days, to avoid doubts.
He added that they always abide by what Allah and the Prophet said.
They prayed on the 29th day of Ramadan, and this was in accordance with the commandments of the Islamic religion, the witness added.
He said as the Caliph General of the Sherif sect in and out of The Gambia, he always abided by what Allah said regarding the religion.
He said: "Our guidance is to obey Allah and the teachings of the Prophet, because Allah created all human beings and jinns to only worship him."
The case was adjourned to 31 March and 1 April 2015.
Read Other Articles In Article (Archive)