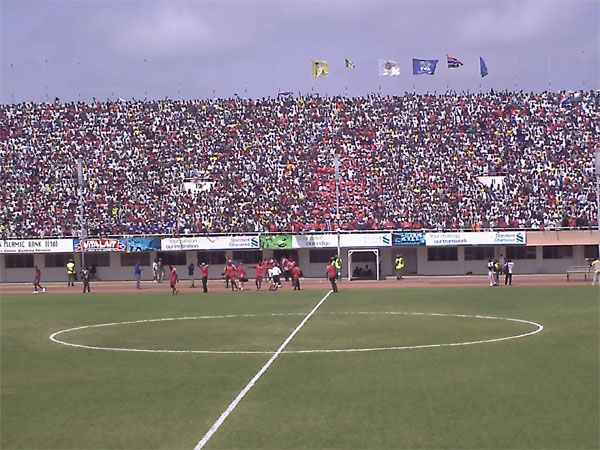 It is very sad to see our national teams playing in our home ground with a low turn out of spectators to come out and give support to our national teams. What is stopping supporters from coming out to support our national teams?
Pointsports went around to get people's views on this issue; why people don't come out to support our teams?
Speaking to Alieu Cham, alias Chama, of Sere kunda he said, " it is very disappointing to see our stadium empty during our matches, since our game against Algeria, people refused to come out and give support to the team. To be honest we were the very ones who were crying for a foreign coach and for the GFA to organise a test match, which they have done but still now we don't come out to support," he said. He added that The Gambia is the only country where football tickets are very cheap to watch international football games.
Karamo Jaiteh, a Gambian fan expressed disappointment saying that he doesn't think that Gambians like football. " I don't think Gambians like football, because if you listen to the comments we made during sports programs we always talk about the way forward for Gambian football. We are now well recommended in the game of football throughout the world. We saw the team's performances from both the youth and senior national level. We saw where our football is heading so it is left to us now to give support to the teams when they are playing. In football you win lose or draw."
He continued saying, "The Gambia are still in the race for the 2010 World and African of Nations qualifying rounds. We have a good chance of making it to our first appearance in the continental tournament. We need to change our attitude, we should not be talking on the radios without acting. Let's be fair to ourselves, we should be supportive to our teams. When there are football games we have to encourage our players by attending.
In his remarks, Ebrima Mboob  said, " we don't have anything to say to the people governing the game of football in the Gambia. We should  start watching our games. Then we will have every right to make comments. We are supporting our team and the team belongs to the Gambian people. We own it, not the people governing it."  He continued saying, " the private sector also needs to come out to support the game of football in The Gambia as Africell have done. When there is going to be a game companies should buy tickets to give to their workers along with T-shirts to show that they are committed to the development of sports in The Gambia. If we recall during the U17 tournament in Banjul we saw companies give out T. shirts to fans and even urging supporters to bring drums just to give the boys full courage. We need the same thing to bring support back to The Gambia and urge the general public and the companies to come all out and give support to our teams. We want to see another U17 and U20 team like the ones that we saw previous years. We have a very young team and they need to be encouraged and that can be only be done if the public comes out and the companies give support to the teams," he stated.
It will be recalled that The Gambia played against Algeria in Banjul with an almost empty stadium. The U20 team played a test game with Senegal recently and last weekend against Mauritania in the CAF U20 Youth Championship in Rwanda 2009, and again there were very disappointing turnout. During those games we could count the number of spectators at the Independence Stadium. Players need the support of the spectators if they are to deliver.
Read Other Articles In Article (Archive)