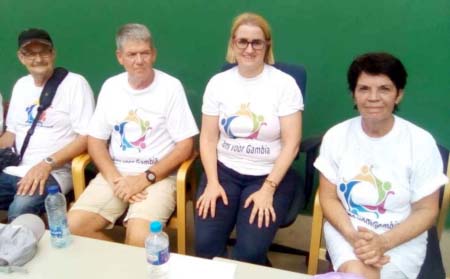 A Netherlands-based charity; Voor Foundation, in partnership with Fankanta Management in Farato have inaugurated over two million dalasis Fankanta nursery and day care school in Farato.

Hubatine Theeuwen, co-founder and secretary general of the Foundation said she had a dream to help Africans, especially the kids when she was young, saying that resulted in the establishment of Voor Foundation together with her husband Hay Theeuwen.
She said with the help of their Gambian counterpart, Siaka Camara and Dutch friends, they were able to help Gunjur and Berending with each a school and hospital.
She also explained that in October last year, her husband and team drove a van from Netherlands to The Gambia and later sold it to raise money for the completion of the nursery and day care in Farato.
Mrs Theeuwen thanked Fabakary Fadera, Siaka Camara, Ousman Sonko and people of Farato for their collaboration.
Charltto, chairlady of Kans Voor Gambia said the aim of building the school at Farato is to empower children education and expressed their willingness to continue supporting Fankanta nursery and day care for the next 10 years.
She appealed to teachers of the school to give their best to the students to ensure that they have better education for the future.
Fabakary Fadera, chairman of Fankanta nursery and day care said the Dutch Foundation showed interest in supporting people of Farato with their education by building the nursery and day care, just some two years ago.
Mr Sanyang, principal of the school gave a detailed report of the facilities provided by the Dutch foundation to the school as well as human resources and population of the school.
Read Other Articles In Article (Archive)