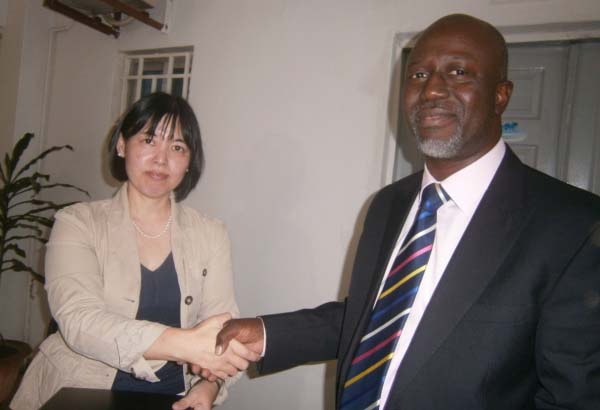 According to a press release issued on March 10, 2015, Ms Akiko Takano, first secretary at the Japanese Embassy in Senegal, presided over a ceremony dedicated to the signature of a grant contract for the execution of a project entitled "the project for supplying medical equipment to the Westfield Clinic".
Japan intends through this cooperation to help the clinic adjust its equipment to the change in common causes of illness and death.
They are changing from diseases such as malaria, respiratory infection and diarrheal diseases to chronic and non-communicable diseases such as diabetes, hypertension and strokes in The Gambia as well.
The prompt measures to deal with this change are an issue of concern not only for the government, but also at the local level.
The signed contract allows the Westfield Clinic to received 73,314 Euros assigned to the purchase of medical equipment, including a hematology analyzer and electrolyte analyzer, a clinical chemistry analyser, an ultrasound scanner, a microscope and generator.
This support is implemented within the framework of the Japanese Grant Assistance for Grass-Roots Human Security Projects, which is designed to support community-based initiatives addressing various development issues, mainly basic human needs.
Good health is evidently one of the pillars of Human Security, the release added.
This project, the release stated, would secure improved access to essential non-communicable diseases diagnostics service, especially by enabling a variety of blood tests, which would provide a timely and reliable medical treatment, the release stated.
The completion of this project, according to the release, would help the clinic achieve its very important mission of relieving people's suffering.
Not only the yearly 15,000 patients of the clinic, but also approximately 380,000 in the Kanifing Municipality and peripheral rural residents would be able to receive efficient and accurate medical diagnosis.
It is expected the morbidity and the death rate in The Gambia could be lowered, it added.
This project is a strong link between the Japanse and Gambian peoples.
It is a true symbol of friendship and solidarity, which expresses Japanese people's wish and would contribute to the enhancement of the Gambian people's welfare, the release concluded.
Read Other Articles In Article (Archive)