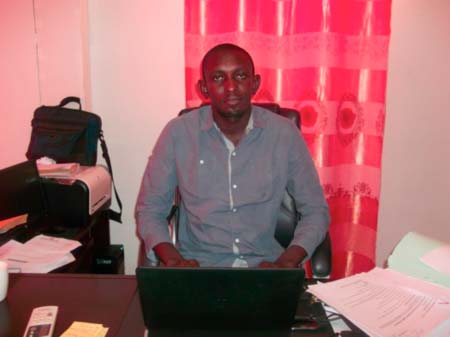 Welcome to this edition of the Personality of the Week. Your weekly column profiles prominent personalities who are role models and inspiring mentors for the future generations, both male and female youths.
In this edition, we profile an individual with a full focus on future generations; a man who proved what he can do for his country and his people.
He has forgone the pursuit of personal interest for the national interest and the development of the country. He believes in patriotism and education as the weapon for development.
Mucktarr M. Y. Darboe, is the Director of Science, Technology and Innovation at the Ministry of Higher Education, Research, Science and Technology.
A simple man, whose concern is getting results and making progress.
In this edition, he takes us through his experiences, challenges and achievements.
Mucktarr M. Y. Darboe was born in Essau village in the North Bank Region.
He attended Essau Primary School from 1985 to 1991 and attended the Institute of Continuing Education (ICE) from 1992 to 1995. He proceeded to Essau Senior Secondary School from 1995 to 1998.
He secured his HTC at the Gambia College from 2000 to 2003, as well as secured his Masters in science, technology and innovation at the University of Sussex in the United Kingdom in 2010.
After his graduation from the college, he did a voluntary job, then known as UQ teaching from 1999 to 2000.
"After graduation, I went for a teaching practice, because you are left to make a choice, though, not necessarily guaranteed. I made a choice to go and teach in the provinces, because it was difficult for teachers to go to those areas."
Q: Why did you make such a choice?
A: I think that part of the country has been so underprivileged. You would be surprised that even the teachers who were related to that part of the country did not want to go back and teach there.
I made my choice out of curiosity, and to provide equal opportunities to all Gambians regardless where you are. Those people also deserve to get an equal opportunity for quality education. I even did not go a lone, because I tried to convince three of my close friends who were also teachers to go serve them.
Even after the teaching practice term elapsed I decided to stay, though the environment was quiet hostile, including the far distance, as well as the condition of the roads. But now the roads are good, because you can drive comfortably. In those days, it took you two to three days to reach your destination; but that is history now!
Q: Did you take any kind of responsibility at your school level?
A: I was so concerned with my education and would not like any distraction at any point. However, I contested for the college's main students' union. Though I did not win, I decided to be part of a committee and we organised so many things to make it colourful for students.
It was part of the weekly review to go to the library to read books and the library then was very effective. Then we could borrow books from the library for a week and return them in the following week. It was in the library I came across a scientific book called "SPACE", where I developed the passion for science.
Q: What was your goal at some point?
A: To go to space was my dream. I liked experimenting when I was teaching, which I also liked to do for fun.
When I am teaching, I teach students to make different things and they were able to make different things and science became interesting to them.
But the Ministry of Basic and Secondary Education at a time expressed the interest for me to share my experiences on a broader scale, whereby I moved to the directorate of science and technology in Banjul under the Ministry of Basic and Secondary Education.
But I have the passion for interacting with children, and then at some point I decided to go back to the teaching field for another one academic year, from where I finally left the teaching field. I am now able to share my experiences on a broader scale.
Q: Were there any challenges at any point?
A: Anyway, a teacher's work is just not easy, and if a teacher wants to do his or her work properly, he or she has no rest. From the classrooms, you are going back home preparing for the next session, tomorrow. The only time you have to rest is when you are asleep!
Only if you the teacher is not doing their teaching properly, but if the teacher is doing the work properly, you do not have time to rest, because at any point of time you have to go ahead of the class for lessons' evaluation and students' preparation.
Q: Have you registered any achievement, if any!
A: When I was a school teacher in the provinces, they were calling us small teachers! It's true, we were all small at the time, but they also had a consistent students' failure at a time. When we went there, there was a significant improvement and they had so many passes. That was one of the wow moments!
At a time, they were even complaining and they were to ask for replacements, because we were small, but apparently we tried and we made sure that those children excelled. And some of them are now at the university, college and some of them are in the military forces.
Now meeting with some of them doing well at the university or any other professions, is a sense of delight and gratitude.
Another factor is that I have been experimenting with broad ideas. The development of the Gambia or Africa, in general, depends partly on science.
We cannot do that without adding value to our resources. Right now, I have developed an idea in soap-making, a soap which can both be used for laundering and shower.
The soap is antiseptic, and is made out of the local neem tree. It kills a lot of germs. I also have an industrial design and when the pattern is granted, license can be issued to companies interested in producing the soap. It is another achievement I know I have made, though it is on a small-scale; by experimenting it to see how it is being appreciated.
Q: What would be your advice out of your personal experiences?
A: The youths have an opportunity because the country is aware of the fact that the greatest numbers of the people are the youths. It is an opportunity for the nation in terms of accelerating growth, and in terms of making progress in achieving the country's development blueprints.
Let the youths take education seriously. You see, we could have all stayed in Europe after our studies. I went to do my Masters at the University of Sussex, UK and people were encouraging me to stay in Europe. This is one of the ungrateful things you can do to your country.
We were not able to have the means to pursue our studies abroad and if the government or the President invests money on you to go and read; the least thing you can do is to finish your studies and come back home and serve your people.
If we don't have our country's interest first before our personal interest, nobody will come and develop the country for us; and nobody will create jobs and improve the livelihood of Gambians, except us. That can only happen if you put your country first. Unless you are able to sacrifice for your country, you will not make any difference.
Q: Do you have any dislikes?
A: I hate lies; in fact, I don't know how to tell lies, because that was how I was brought up. So I find it easy to mingle with honest and reliable people.
Q: Your likes, Sir?
A: What I like most is humility. I believe we are all derived from the same organism. The only difference we have is how we appreciate each other.
My final advice is that people of my age and those younger than me should take education seriously. This is not about politics, but in every generation, God gives them a person which is ideal for that generation and thank God that we have someone.
For some of us, we probably would not have been able to climb the ladder to success quickly, if it had not been for the intervention of such benevolent people like the President.
The essence is, especially for we the youths, we have to take learning seriously and to be ambitious.
But, first of all, we need to put the Gambia first for the benefit of our generation and those coming after us.
Our own fight should be the fight to leave a better Gambia for the future generation than we inherited.
I focused on achieving goals, and one of the goals should be to produce knowledge that is of economic value. If you want something, set a goal for yourself and work towards its achievement, despite challenges faced ahead.
My passion is I put my country before myself, because if the country develops, I get developed too; because my children and grandchildren will be able to find a better Gambia.
For your comments, contribution or to be featured please contact adoboyj@yahoo.com or (00220) 7737484.
Read Other Articles In Article (Archive)