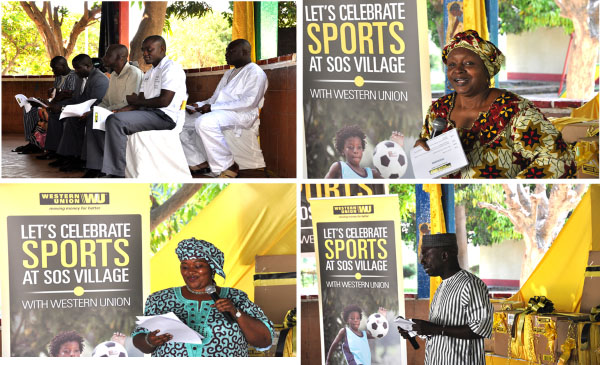 With a 160-year history of operations and more than 500,000 Western Union Partner locations in more than 200 countries and territories strengthen our commitment to offering our services in every corner of the globe. Western Union connects people and businesses around the globe by providing fast, reliable and convenient ways to move money.
It takes pride in being close to its customers. Together with its golbal partners and more than 9,600 employees globally, it speaks its customers' languages, lives in their neighbourhoods and share their culture. They are a key part of each other's lives.
Western Union, together with Local Partners in The Gambia (Trust Bank Ltd, Ecobank Gambia, Guaranty Trust Bank (Gambia) Ltd, Access Banking Gambia Ltd, Keystone Bank (Gambia), Reliance Financial Services Company, First International Bank Ltd, Zenith Bank (Gambia) Ltd, Gambia Postal Services Corp, Skye Bank (Gambia) Ltd, and Arab Gambian Islamic Bank), recently donated sports materials to SOS Children Village at a presentation held at the village grounds in Bakoteh on Friday 7th of Novemeber 2014.
Speaking at the presentation ceremony, Mrs. Haddy Touray, the Village Director and supervisor of the youth village team stated, SOS has been existence in The Gambia for thirty-two years, whilst the umbrella organization SOS Children's Village International the parent institution has been in operation for the past sixty-five years and operates in 132 countries worldwide.
She mentioned the contribution of SOS (The Gambia) and its impact over the years in the protection of lives of vulnerable and needy children and the development of youths in this country; in her accepting speech she went on further to talked on the contributions made in the development and general welfare of communities in the Gambia through their interventions in family-based care and family strengthening programs for children that have lost parental care and those at risk of losing parental care. Mentioned was made of the presence of SOS in the Gambia outlining the two villages located in Bakoteh and Basse, with an occupation of one hundred and eighty five (185) children and forty (40) youths between the ages of fourteen (14) and eighteen (18) years currently, she further went on to say that the family strengthening programs in Bakoteh, Basse and Bansang, have benefited two thousand three hundred and thirty seven (2337) individuals since inception, and these programs have helped in fully reintegrating back to society one hundred and thirty-six (136) young adults, out of which eighty nine (89) are male and forty seven (47) female.
She commended Western Union and partners for this act of giving back to the community by donating sports goods items which will enhance the villages sporting infrastructure especially their lawns; and emphasizing that the donation would go a long way in adding value to the sporting activities of the children and youths in the villages and the neighbourhoods they are located in.
Ms. Oumou Tall, the National Director of the village, thanked Western Union and Partners for their timely contribution in the effort to assist in reaching vulnerable children and the youth of this country. She further went on to say that; What Western Union and Partners are doing is strengthening people's belief that sport is essential in the growth and development of young people and that such initiatives support the development, understanding and acceptance of sports, as well as promote unity among the people. She also infers that the family strengthening programmes are extended to children outside the village, noting that the beneficiaries for the donated items will not only be restricted to the village children but will serve other children from the neighbourhood.
Mr. Dodou Nyang of Trust Bank Ltd, spoke on behalf of the Western Union and its local partners, He went on to give a brief history of Western Union and the Partners involvement in this type of giving, whilst indicating that SOS is the type of organization that relies on support and other contributions to fulfil its mandates. Mr. Nyang reinforces the importance and values of sport in growth and development of children and the youth, the reason why Western Union decided to donate the sporting items. He further went on to express gratitude to all Gambians abroad and at home for using the services offered through Western Union and in turn contributing to the growth and development of society and the vulnerable.EndFragment
Read Other Articles In Article (Archive)