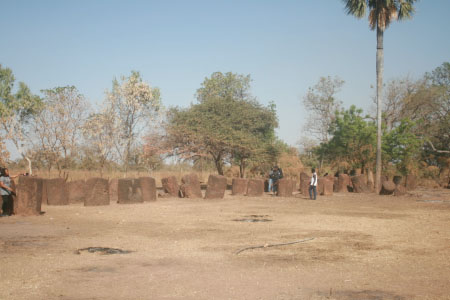 Kerr Batch Stones Circle has been inscribed into the UNESCO World Heritage lists, joining the other sites including Wassu Stones Circle.

The two sites were visited by Honorable Hamat N.K. Bah, minister of Tourism and Culture with his entourage on Wednesday as his tourism facilities' tour 2020 progresses.
For preservation and reservation, the minister of Tourism and Culture has reassured the community of Nianija of rehabilitating the Kerr Batch Stones Circle to its proper position as soon as possible from its present derogating situation.
"Everybody is aware that stones circle is a unique heritage sites that can be found in country like Egypt among other places and Gambians need to know about their history. So added that once the facility is improved, family, friends and tourists will able to visit and relax," minister Bah explained.
As work will commence soon to rehabilitate the museum, he opined that it will not only be the National Center for Arts and Culture show, but the Gambia Tourism Board, Gambia Tourism and Hospitality Institute and other investors too will have roles to play to improve the site. "In particular that the government is investing in tourism expansion programme, being one of the reasons the government is training the youth in advance on how to manage those facilities," he noted.
As Tourism and Culture is now a priority sector in the country's National Development Plan, the minster disclosed that government has already provided fund for the reconstruction of the museum in Kerr Batch Stones Circle.
Giving the history of the stones circle, Hassoum Ceesay, director general of National Centre for Arts and Culture, said the stones are burial site for the important and notable people in the society.
Apart from Kerr Batch and Wassu Stones Circle, he said, there are 10,000 sites in the country which might even look more beautiful than these two areas.
He alluded to the words of the minister that work will commence in earnest at Kerr Batch Stones Circle.
DG Hassoum dilated on the importance of the site which include the historical value to the country, job creation and employment for the locality, spreading the history and culture of the people of the locality and most significantly, to promote tourism.
He therefore assured the community of Nianija that all the items moved from Kerr Batch Museum to Wassu Museum be returned immediately so long the job is completed at Kerr Batch Stones Circle.
Read Other Articles In Article (Archive)