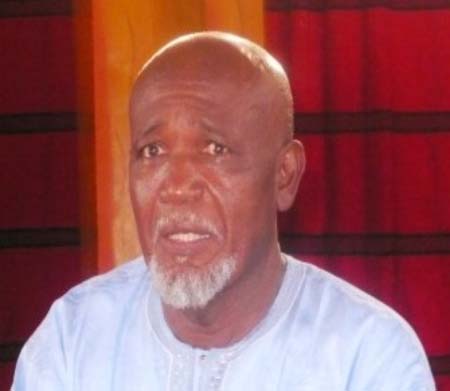 A Ghanaian international performing arts icon has urged The Gambia government to invest in establishing a vibrant national theater, and support the performing arts sector to enhance cultural regeneration as a means of attaining national development.
Professor Mohammed Ben Abdallah, who is in the country as a guest of the Ebunjan Theater Troupe's second anniversary, made this call at a press conference held at the Ebunjan Theater hall yesterday.
"Government should not allow this (Ebunjan Theater) to die. It should come and support this private drive to develop the performing arts sector," Dr. Abdallah told journalists, also urging young ones to take their culture seriously. 
He was known to many as a leading playwright and scholar on African theater before ex-president JJ Rawlings came to power in Ghana. Today he is ambassador of African theater, a university professor in the subject, a playwright and international consultant, after serving many years as minister of arts and culture in Ghana.
Gambia should learn lessons
"The day that this (Ebunjan) theater starts receiving money from Alliance Francaise, American embassy, or other foreign agencies, then we should know that a big part of the heart is dying," he argued, adding that with performing arts, Africa has the means of stopping the "cultural corrosion" besetting the continent and her people. And Gambia should learn from this.
To President Jammeh and his fellow African leaders, Prof. Abdallah said: "Stand up and be counted. For the white man's culture has taken over our culture." Playwright Dr. Abdallah said India, Japan and China are some of the world's successes today thanks to the centralising of their cultures at the center of their respective development aspirations.
Exemplary works of leaders
He cited Sekou Toure, former leader of Guinea Conakry, as a good example for Africa in this regard: "He is a true representative of African culture. He built a national theater and named it after Africa. He invested and supported the performing arts sector as a way to inspire national development. This resulted in a cultural boom in Conakry even after his time as president," said Professor Abdallah.
Meanwhile, turning to the hosts, Prof. Abdallah said the work of Janet Badjan-Young, founder and CEO of the Ebunjan Theater Group was "very inspiring". He likened her to a renowned African performing art celebrity, fondly considered as the 'high priestess of African theater'.
He also referred to Dr. Kwame Nrumah as a greatest inspiration and admirer of African arts in Ghana, saying: "we cannot let foreign cultures excel at the expense of our culture."
No stranger to Gambia
According Mrs. Badjan-Young, Dr. Ben Abdallah is a playwright of note. "His plays examine historical, political and social issues not only in Ghana but also in Africa. He incorporates elements of rituals, dance, music and storytelling in his plays," she said.
The play, "the Alien King" written by Dr Abdallah will be staged during the Ebunjan Theater fundraising dinner.
Hassoum Ceesay, curator at the national museum and a director at National Center for Arts and Culture (NCAC), said Dr. Abdallah is no stranger to Gambia: "Dr. Abdallah was a World Bank consultant to NCAC in 2002, when he assisted the center with a capacity building programme. The programme ended with an epic production of the play, "Battle of Sankandi", based on the many atrocities during the colonial era.
Author: Sanna Camara
Read Other Articles In Article (Archive)