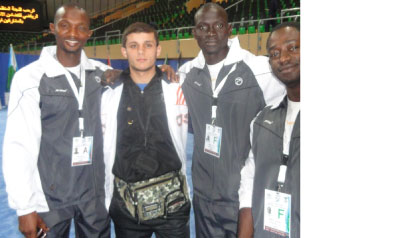 Musa Koteh, president of the Gambia Weightlifting Association (GWA), has described his association's recent trip to Saudi Arabia as "total success".
Koteh, together with two athletes from the association in the persons of Seedy Jobe and Gibril Camara, a few days ago returned home after taking part in a weeklong Islamic Solidarity Weightlifting Championship held in Damman, Saudi Arabia.
The two Gambian representatives made remarkable performances that impressed the organizers, according to Koteh, who headed the delegation to Saudi Arabia last week.
Speaking to Pointsport in an interview with this reporter two days after returning to Banjul, the GWA's top man said: "I am extremely delighted at the performances of my two athletes, who have made everyone proud by putting up a great fight during the weeklong Islamic Solidarity Weightlifting championship in Saudi Arabia.
"With the brilliant display of Seedy Jobe and Gibril in Saudi Arabia, I am confident that the Gambia Weightlifting Association can have some more representatives in the upcoming Olympic Games in London due to take place later this year," says the ambitious young Gambian sports man.
Koteh said he is ready to raise the standard of weightlifting both at national and international stages and believes he has the international connection to meet his ambition for his young and aspiring athletes.
He is however aware of the fact that he needs the support of all and sundry in The Gambia in his quest to reach the highest athletics level someday.
Koteh, who involved actively in sport in 2009, used the platform to thank the Saudi Arabian Olympic Committee for taking full responsibility for their travelling arrangements.
He also heaped praises on the National Sports Council for the council's "support" towards their trip.
Read Other Articles In Article (Archive)