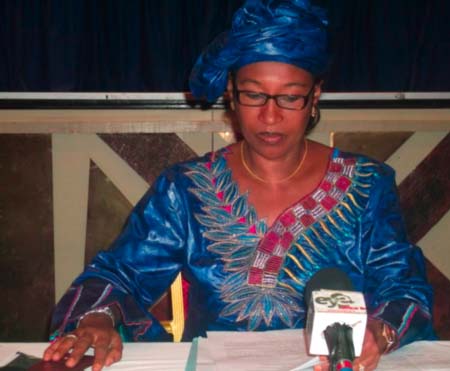 Foreign Affairs Minister Neneh MacDouall-Gaye has stated that nations, including The Gambia, should work hard to put in place strong anti-drug cartels capable of combating drugs and drug trafficking across nations.
"We must strive to empower and equip our anti-drug cartels to defeat the drug trade," Minister Gaye said.
She made this statement whilst presenting a farewell message to delegates from other countries at the closing of the day-long Moscow-Africa anti-drug dialogue, held recently at the Kairaba Beach Hotel, and attended by participants from various African countries.
The day-long discussion was staged on the fight against drug trafficking and its negative impacts on human life.
The Gambia's foreign minister called for more cooperation through intelligence gathering and sharing, as well as enhanced collective efforts to exchange training and expertise to form a formidable force that will defeat the drug trade across nations.
She pointed out the significance of the meeting, considering the growing role of the West African sub-region as a destination for international drug cartels.
Estimates suggest that the volume of cocaine transiting through West Africa is about 50 tonnes a year, and the annual worth of the substance that is trafficked is valued at about US$2 billion.
"This shows not only the magnitude of the problem, but the need to act decisively to save all our countries from this scourge," she added.
The foreign affairs minister commended the presence of the Director of the Federal Drug Control Service of the Russian Federation, Viktor Ivanov, at the Moscow-Africa dialogue.
It was not only a testimony of the deepening of ties between The Gambia and Russia, but also a strong indication of Russia's intention to collaborate with The Gambia in the fight to eliminate the trafficking and use of drugs.
Minister Gaye extended her appreciations to the Russia government for always being a key partner of the African continent in her socio-economic development, as well as for their zeal and determination in joining Africa in their efforts at eradicating the manufacturing, trafficking and use of drugs.
Read Other Articles In Article (Archive)