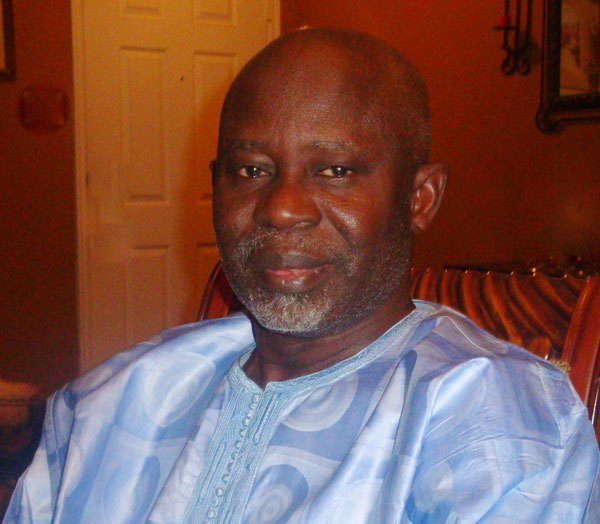 Lawyer Ousainou Darboe yesterday told the High Court presided over by Justice E.O. Dada that they are victims of political persecution.
Darboe made this remark in the criminal case involving him and nineteen others, after the testimony of the first prosecution witness.
Lawyer Darboe further said: "I want to state that since the day of my first appearance in this case with my colleagues, our rights as accused persons have been ignored. After 43 years of active legal service, I should know and I know that the law has been ignored, both nationally and internationally.
"This court has said that the defence counsel in this case has withdrawn from the case, but did not give us the chance to state whether or not we will seek the service of another lawyer. But it is the court that said we can defend ourselves; and it is not for the court to impose on us that we will defend ourselves, which is a violation of our rights. I will ignore any procedural execution in this case, because the trial has not been exercised judicially and judiciously.
"In view of this, we will not participate in this trial to legitimise our pre-arraigned conviction," he said.
The trial judge then asked if he was speaking on behalf of all the accused persons.
In response, Darboe said: "This is a political case, a case against me and my party supporters. We are victims of political persecution; so I am speaking for all of them. We have seen people committing heinous crimes against the laws of this land working out of this court on bail, while us who are charged for exercising our constitutional rights are denied bail."
However, the DPP insisted that Darboe could not speak for all the accused persons. The accused persons were all called on one by one and asked if they had any questions for the witness, but they all responded with silence.
The case continues on Monday 13 June 2016, at 12 noon.
When the case was called, the trial judge said the defence counsel in the case had walked out of the case, but "it is in law that the accused persons could defend themselves". So the case would proceed, the judge went on, and urged the accused persons to listen carefully to the testimony of the prosecution witness, so that at the end of his evidence they could cross-examine him if they so desired.
The state was represented by DPP S.H. Barkun alongside with deputy DPP M.B. Abubacarr and B. Drammeh, while the accused persons were unrepresented.
Testifying in court as the first prosecution witness (PW1), Deputy Superintendent of Police, Musa Sanyang, said he lives in Farato and he is the officer-in-charge of operations attached to the Police Intervention Unit (PIU).
"As PIU officers, we are responsible for preventing public disorder. We also conduct patrol duties. We also guard the VIPs and sometimes we escort high-profile cases," he said.
Asked by DPP if he knew or recognised the accused persons, he said he only recognised the 1st accused person, Ousainou Darboe.
He said he knew the reason why they were brought to court, adding that what he could say about the other accused persons was that "they are accused persons who are brought to court".
"On 16 April 2016, whilst we were in our base at Kanifing, we got an intelligence report that there were people gathered at the Kairaba Avenue and were trying to do a protest. The team of riot police officers was deployed to Kairaba Avenue, of which I was among," he said.
The team was put on patrol to monitor the situation along Kairaba Avenue, he said, adding that whilst on that patrol they proceeded to Kairaba Police Station.
"There we got an intelligence report that the people gathered at Kairaba Avenue had moved on foot in a larger number protesting and moving towards Westfield."
"I and my team quickly boarded our truck from Kairaba Police Station, and immediately followed the protesters up to somewhere after Comium headquarters.
"We saw them and by then the traffic was completely at a halt and blocked that you could not pass through. We had to manage to take a shortcut and overcame them and stood 200 meters in front of them, and all of us came down from the truck in our full riot gears."
He went on: "As they were about to reach us, I first asked them if they had a permit while I was using the microphone, and they failed to produce the permit. I quickly used proclamation wordings to them and I said 'In the name of the President of the Islamic Republic of The Gambia all persons settled here are ordered to disperse peacefully and go on with their lawful business. A person who did not disperse will be liable to disperse forcefully."
PW1 added that after that proclamation, the protesters still resisted to leave, and they went on with the protest which the riot police did not allow.
During that situation, he said, they started "throwing big stones" at the police officers, adding that the officers also responded by releasing teargas on the protesters, and that was when most of them started scattering and running away.
He said that during that situation they were able to arrest a good number of them at the scene.
He adduced that they being responsible for maintaining public order, at that quality time the security and peace of the country were at stake, as people were running and businesses were closed as well.
The traffic was completely obstructed, and most of the vehicles packed around had their glasses broken as a result of the stoning, he said.
He added that some of the officers sustained injuries and some of the shields were broken, adding that those arrested at the scene were taken to the PIU base in Kanifing.
Read Other Articles In Article (Archive)