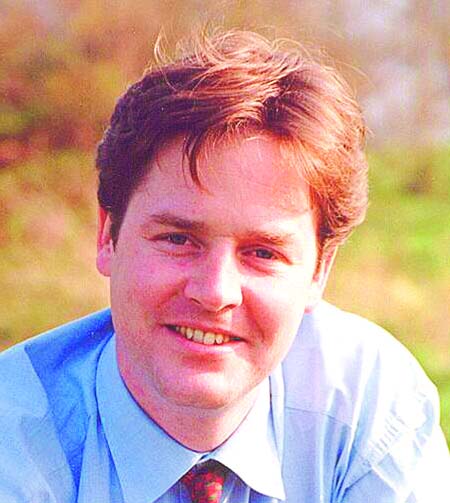 The Liberal Democrats so far are the third largest political party in the country but, most importantly, are seen as the 'main decider' of the next new legislative body, especially in a hung parliament.  There is no doubt that the party is a force to be reckoned with due to its popularity among hundreds of voters.
The party, simply called Lib Dems, is led by Nick Clegg who was recently described by a commentator as UK's 'Obama.' It insists that it is 'different' from the two major parties, and has called on voters to elect them for a change, by rejecting both Labour and the Conservatives. The party believes that voting for them will effect a real 'change of the current system.'
According to their manifesto, the Lib Dems as a party is willing to 'listen' to the demands of voters and ordinary citizens, and to make sure the fundamental issues affecting the country are addressed without delay.
Economy - According to the Lib Dems' manifesto, people today are struggling with spiraling debts, rising food and energy bills and unaffordable mortgages. It alleged that a decade of 'complacency by Gordon Brown' has meant plummeting house prices, falling growth, rising inflation and rising unemployment. It said that the outlook for the UK economy has not 'looked so bleak' since the Tory recession of the 1990s.
Thus the party promises: 'We want to offer real help to the millions of families trying to make ends meet, so we will get wasteful government spending under control, and give the economy a boost by cutting taxes for people from the bottom up.'
The party also pledged that it will 'crack down on big business and the super rich who exploit tax loopholes, and do not pay their fair share.' Furthermore, the party outlines that it will strengthen the economy by requiring the Bank of England to take house prices into account when setting interest rates, and will effectively regulate the banking system to prevent 'irresponsible' lending and business practices.
Health - The  party outlined in its manifesto that the National Health Services (NHS) 'represents values which unite us as a nation' - a comprehensive health service, which treats 'all people equally, and is free when we need it.'
The Lib Dems also acknowledged that they know how important the NHS is, and that is why 'we will ensure that the NHS provides high quality care and the best possible service long into the future.'
According to the party, a lot of money has been invested in health in recent years, but too much of that has been 'wasted on bureaucracy rather than investing in frontline services.' Thus the party believes that patients must come first, and that services would improve if local people had a say in how the NHS is run.
Furthermore, on the NHS, the party said: 'We will scrap central targets and guarantee that you get your treatment on time. We will give people the power to stop hospital closures in their area through elected local health boards. And we will put doctors and nurses back in charge of their hospitals and wards.'
Education: The Lib Dems want every child to get an 'excellent education because it is the best way to get on in life, get a good job, and learn about the world.'
The party also promises that it will 'cut class sizes, set teachers free to spend more time in the classroom' and raise standards in every school with more money for things like one-to-one tuition and classes in the evenings.
As far as those youngsters leaving school are concerned, the party said that 'university is getting more and more expensive ... to get a degree, young people are saddled with thousands of pounds of debt, when it is tough enough to get a job, get on the housing ladder and make ends meet.'
The manifesto reveals that the party is the 'only party which believes university education should be free, and everyone who has the ability should be able to go to university and not be put off by the cost.'
Currently the Labour government is disbursing grants and other maintenance cash to students qualified to attend university, and such disbursement is calculated based on the needs of the student, including their entire household.
However, at the end of their studies, and only upon having a job and receiving a certain amount of money as salary or wage, should the student start paying back to the government coffers.
Notwithstanding, many students in the universities are demanding that the cash offered by the government be totally free, and thus such Lib Dems voices are attracting hundreds of students around the country. These students say they don't want to pay back any money in the future.
Law and Order - According to Lib Dems, crime is one of the biggest issues facing the country, and that it is 'far too high' and that too many 'people don't feel safe' - in their own homes and in their town centres. Thus they want to cut crime to 'make people safer.'
The party alleged that, for too long, the debate about policing and criminal justice policy has been centered on what 'sounds tough rather than what works to cut crime.' It further alleged that both the ruling Labour party and the Tories have become 'embroiled in a sentencing arms race in a bid to pander to tabloid newspaper editors and to exploit a politics of fear.'
Therefore, the party promises that it will be putting '3,000 more police officers' on the beat by 'scrapping ID cards,' and are committed to meaningful reform of the police service, and to putting 'criminal justice policy on an evidence-based footing.'
Immigration and Asylum - The Lib Dems also attacked the ruling Labour party and alleged in their manifesto that 'years of incompetence, and failure to plan for the effects of unprecedented immigration, has led to a crisis of public confidence that threatens Britain's historically liberal approach to immigration.'
The party manifesto added: 'We must recognise that we can only secure the substantial economic and cultural benefits of a liberal immigration policy, if we make the effort to plan for the impact and consequences of that policy.' It added that since the Tories and Labour 'abolished exit checks in the 1990s, we have no way of knowing how many illegal immigrants live here.'
Liberal Democrats said that they want an immigration 'system that works.' A system they said that is 'firm but fair,' which plans for the effects of managed legal migration and promotes integration.
The party equally acknowledged that it believes in the 'benefits that immigration has brought this country, but we do not believe our borders should be a soft touch.'
The party seen as 'liberal' when it comes to immigration, this time round noted that 'Liberal Democrats would take control of our borders and immediately reintroduce entry and exit checks. Our National Border Force would have the power of arrest. We will bring unscrupulous employers and people traffickers to justice. We will offer families who have been here for years and want to pay taxes a route to citizenship, provided they want to work, speak English and want to commit to the UK in the long term. We would also introduce a Regional Points-Based Immigration System to ensure that immigration is targeted on areas that are under-populated and want more immigration, like Scotland.'
The party said: 'We will make the asylum system, for those fleeing real persecution, fairer by taking responsibility away from the Home Office and giving it to a Canadian-style independent agency, which will substantially reduce the number of decisions overturned on appeal. We will end asylum-seekers 'dependence on benefits by allowing them to work to support themselves.'
International Affairs - The Lib Dems also denounced anything that will damage 'Britain's reputation' including what the party claims to be 'dodgy arms deals with dictators, allegations of involvement in torture and, of course, the disastrous and illegal invasion of Iraq.' It said it is totally against any dealing with dictators around the world.
The Lib Dems' manifesto also spoke out against any dealings with such dictators, as well as those who disregard fundamental human rights and oppress and torture people.
It said: 'We should be encouraging a regional peace process working towards a ceasefire and ultimately a political and constitutional settlement within Afghanistan. A strategy of political reconciliation is now necessary.'
Thus, the only party that was opposing the war in Iraq, noted that it 'will put British values of decency and the rule of law back at the heart of our foreign policy.' 
It said: 'We will always put the country's security first. But the national interest demands that we work with allies, stand up for human rights, and help people in the poorest parts of the world.'
The Party insisted that the 'Conservatives cannot offer real change. They are mistrustful of international cooperation, with an out-dated world view.  They do not understand the need for close cooperation with allies in a globalised world. They want to pull up the drawbridge, leaving British foreign policy isolated and impotent.'
Equality - The party said that the 'core of Liberal Democrats philosophy is a belief in equality of opportunity.' They pledged that 'fighting discrimination in all its forms underpins our policies.'
The party insisted that 'Britain today is a multi-ethnic, multi-faith, diverse society. It is a richer society as a result - culturally, socially and economically. Liberal Democrats embrace and celebrate a diverse Britain.'
Thus the party promises that it will ensure that 'our laws reflect that diversity, protecting all from violence, discrimination and harassment and allowing everyone the freedom to live their lives.'
Environment - The Liberal Democrats said they 'received three green lights' by offering the strongest set of policies on climate change, green taxation and green living.
The party said its policies have a green thread running through them, and believe achieving sustainability cannot be done by one government department alone. It claims that damage to our environment damages personal health, impoverishes economies and weakens communities.
The Liberal Democrats said they are the only party with the vision, commitment and political drive to deliver positive change, which will in turn safeguard the future of the environment and our rural affairs.
Read Other Articles In Article (Archive)