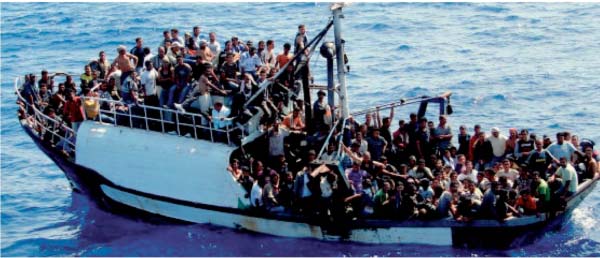 The European Union has presented a new framework of aid support to ease the flow of African refugees and migrants to the EU.
The European Commission in partnership with nine countries in the Middle East and Africa including Jordan, Libya and Nigeria want to tackle the influx of African migrants and refugees through an aid that amounts to 62 billion euros.
The framework, according to the Dimitris, the EU migration commissioner, shall ease the problems the EU is facing concerning the migration crisis. 
However, many critics said the new framework is another rubber stamped deal just as that of Turkey.
For the migrant world, it means a lot of controversy but for Africa it means a lot more. The majority of refugees and migrants who entered the EU last year were fleeing wars, chaos, natural disasters and dictatorial governments in Syria, Nigeria, Iraq, Somalia, Sudan and Libya.
Although since the EU-Turkey deal last March, Turkey took stricter measures towards migrants by building walls between Turkey, IS and Syria in which thousands of migrants are currently stocked under dilapidated conditions not being able to access asylum. 
The deal is actually reducing the number of migrants and refugees reaching Greece from Turkey and analysts called the forthcoming deal EU-Africa deal as a duplication of the Turkey–EU deal. 
Many commentators, civil right groups, and NGOs called it unfair. It will mean seeing refugees stock in bad situations and governments with little or no help they said.
But the number of migrants and refugees reaching Italy through the Mediterranean route remain steady since last year, and even more when there is good weather. 
The percentage of migrants taking this route are from Nigeria (15%), The Gambia (10%), Somalia (9%), Ivory Coast, Eritrea, and Guinea (8% each) and Senegal (7%), according to a report by the UN refugee agency, UNCHR.
The EU-Africa deal aims to boost 40% of deportees who failed their asylum seeking processes.  Under the deal, the EU will deport false asylum seekers to their countries of origin and countries that fail to cooperate might face cuts in EU aids they receive.
The deal specifies each country's condition and developed a plan initially with: Ethiopia, Jordan, Lebanon, Libya, Mali, Niger, Nigeria, Senegal and Tunisia.  The plan is expected to expand to other countries.
Human rights at risk 
The aid that will support tighten security in several countries where these migrants and refugees are fleeing from will be stuck and they will have no better place to seek for their human rights.
For African countries, the commission has mapped out a €40 million worth of projects as part of the Emergency Trust Fund. 
Eritrea and Sudan are subject to international sanctions because of alleged large-scale human rights abuses, which both governments denied.
If Kenya should close what is known as the world's biggest refugee camp - Dadaab – which hosts 350,000 people, many will head to Europe. Already many in these camp and other similar ones are facing dramatic conditions.
More Consequences
This deal will not go long. The proceedings are one-sided and will be counterproductive for the EU and disastrous for the lives at stake.
African governments that would use the aid to supplement their security efforts will bring up more problems to their own people.
The small amount that could be supplemented can only start up fragile projects such as skill building, sponsoring education, supporting health facilities and aiding small-scale farmers.  Given that the amount is small, governments are corrupt and the deal is not transparent, it will endanger the lives of many.    
The EU should move to work out a framework right from Africa, Middle East and Asia.  The governments concerned should craft out a workable plan that would neither concentrate on the interest of EU nor themselves but the interest of those lives at play. 
Since the deal is based on EU's interest, it could produce more tragedies than expected.
Giving 48 billion euros to corrupt governments that lack transparency, to see that the fund is used in the right place, means inducing more problems. 
Read Other Articles In Article (Archive)