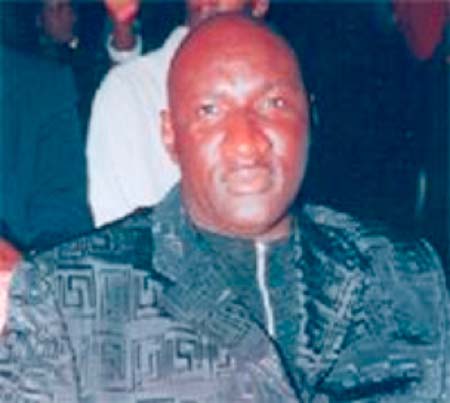 Musa B. Suso, deputy Governor of West Coast Region, on Saturday 10 September 2016, handed over seventy thousand dalasis bankrolled by His Excellency Sheikh Professor Dr Alhaji Yahya A.J.J. Jammeh Babili Mansa, to the spouses and other relatives of seven pilgrims from West Coast Region he sent to Mecca for Hajj.

In his remarks, Deputy Governor Susa said President Jammeh has supported the pilgrims to perform what he described as one of the important pillars of Islam.
He urged the families to strictly adhere to the presidential directive in providing rams to their families during the festive period.
He asked the recipients to pray for the president to enable him to further "develop the country as a paradise on earth".
Governor Susa said President Jammeh is an inspirational leader with a big heart to support Gambians and non-Gambians.
He urged relatives of the pilgrims to be steadfast in their support to the Gambian leader in the December polls.
The deputy Governor reminded his audience that the president had registered "insurmountable and unprecedented development" in all sectors and "it is only fair and prudent for every Gambian to return the favour" by voting "massively" for the president in the December polls for "the greater good" of the country.
Deputy Governor Suso stated that the preoccupation of the region, which also served as the birthplace of the president, is to increase the percentage vote to be cast in the 2016 presidential election in the West Coast region.
Also speaking on the occasion, former Kombo North parliamentarian stated that come December 2nd the West Coast Region will triumphantly storm the nation's capital as a mark of yet another electoral success in a "landslide victory for Professor Jammeh and the great APRC party".
Speaking on behalf of the beneficiaries, Madam Mai Jarju-Bojang, spouse of the Speaker of the National Assembly honorable Alagie Abdoulie Bojang, thanked President Jammeh for what she described as a "heartwarming and a king-size surprise" to their families.
She called on the electorate to use the December presidential polls as a development initiative for The Gambia and for humanity.
The recipients were honorable Speaker Alhagie Abdoulie Bojang of Foni Kansala, Councillor Ajaratou Ida Ndure of Kombo South, Ajaratou Fatou Darboe of Kombo Central, Honorable Alhagie Pa Lamin Jatta of Kombo North, Ajaratou Kaddy Sanneh of Foni Bondali, Alhagie Bakary Saibou Sanneh of Foni Bintang and chairperson of Brikama Area Council and Ajaratou Kaddy Jammeh of Kombo East.
The ceremony was attended by the Paramount Chief Alhagie Demba Sanyang, Honorable Matarr Kujabi, APRC Divisional mobilizers, Solo Marreh and members of the WCR APRC executive committee among others.
Read Other Articles In Article (Archive)