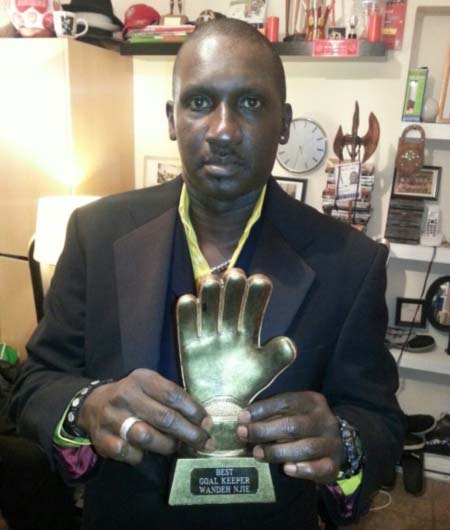 This month marks 23 years since goalkeeper Wandeh Njie signed for Real de Banjul. Born at 7 MacDonald Street in Banjul, Wandeh moved to Bakau at the age of 4 where he attended Bakau Primary School and then to Latrikunda Technical School.
Wandeh started his football in the Nawettan with Super Bakery FC under the leadership of Alpha Jallow, where he played alongside Cherno Youm, Badou Samba, Corn Barry, Haruna and Habib Jeng.
Wandeh, who now lives in Hayes & Harlington, devoted his life to football, with his career seeing him play for and coach Real de Banjul and the Gambian national team, as well as winning the Gambian FA Cup.
Njie had shown a talent for sport at an early age but, ironically, football wasn't the first sport he turned his hand to. However, an absence of top class footballers in the country meant he was persuaded to give football a go.
Dagudan became the first of many club sides for Njie, though it wasn't long before he was on the move, as he signed for fellow Gambian outfit Roots FC.
www.Realdebanjul.gm caught up with Wandeh, who is married with three kids, to reflect upon his successful career with the Club. Enjoy the interview below.
What year did you join Real de Banjul?
I joined Real de Banjul in 1992 from Pitmawick Football Club in Bakau when I came back from Sweden in 1991. I saw back then there was no first division club in Bakau and I started training with Pitmawick, former Dagudan FC. I remember having a chat with Pa Faye and I said to him that I have to help you guys to promote. I played with them as a defender and helped them clinch the second division championship and help them to an FA Cup final against Wallidan in the 1991/92 season.
Who were the best players during your time with Real de Banjul and The Gambia?
At Real de Banjul, I can say Saul Jagne was my best player then as he was the most consistent player at that time and in The Gambia at large, my hero was Lie Ndour, and he is the one that made me a better goalkeeper from childhood.
Did you win any titles with Real de Banjul?
I remember winning the Super Cup with Real de Banjul and also winning the League in the 1993/94 season as a player.
Pa Dembo Touray said in one of his interviews that he was "lucky" to play with you as a teenager in his career. How did you help him to become unarguably the best Gambian goalkeeper in the last ten years?
For players like Pa Dembo, we know that we learned a lot from our elders like myself when I was always being advised by Lie Ndour and receive loads of support from him and also Sang Ndong, who did a lot for me. I remember when he (Sang) was leaving for Brazil: he told me that 'I am leaving for Brazil and I want you to take my place in the national team and there should be no pressure', I was so motivated and so encouraged with those words, and for Pa Dembo, he came to Real when he was young and he was a good player that was always wanting to become a leader and was a discipline boy who would always listen, I am not surprised that he became Gambia's number one and the longest-serving number one in the country's football history, I still wish and pray for the best for him.
If you were not a footballer, what would you have become?
I would have been a Chef because I like cooking (laughs)… I like basketball and tennis as a kid. I used to play basketball for both Latrikunda Secondary Technical and the Bakau team those days together with Baba Jarra, Abou Johnson, Peter, Paul, Sam Ceesay. So basketball was my second favorite sport but I would've preferred to become a Chef if I didn't play football as I love cooking.
What match can you remember as the best in your career?
The best match in my career was for the national team with Gambia when we played in Monrovia against Liberia in 1987. It was my first match representing my country as a goalkeeper.
How do you see the current Real de Banjul team and do you still have links with the Club?
I always have links with the Club as I've always been a big fan of the Club. I still get in touch with everyone there and I know what's going on there every day and night. The team is doing well and I am proud to say it is one of the most organized teams in The Gambia. The Club is heading to the right direction and all thanks should go to the current executive. The Club continues to produce talents and still selling talents to teams abroad. All in all, in Gambian standards, it is number one!
Who do you think is the best Gambian footballer currently?
I will say honestly, it is Modou Secka Barrow of Swansea City, currently on loan at Championship club Blackburn Rovers (and a former Real de Banjul youth product whose dad also played for the team). I watch him a lot and believe me, at the moment, his profile speaks for itself. His current move to Blackburn will avail him the chance to have more playing time and first-team opportunities because Swansea is a good team and have big name players.
What advice will you give to the current crop of players at Real de Banjul?
The advice I will give current players is to always know that they should be proud of representing Real de Banjul because the Club has a history and if you talk about Gambian football, Real is always the best team ever and the most supported team in Gambian history. I know the Hawks, Wallidan and other teams' fans wouldn't want to hear that but that's a fact (laughs) and I am so happy with that and wish the Club all the best in the upcoming seasons.
What do you miss most?
What I am missing most there is my main man, Alhagie Bambo Fatty a.k.a 'Mr Motivator' in that dressing room of Real de Banjul. The motivation in that dressing room, 'highlights' as Thomasi used to call him (laughs), that's the thing I miss most.
Thank you very much for your time Mr Wandeh Njie.
Thank you very much and I wish the Club all the best!
Read Other Articles In Article (Archive)