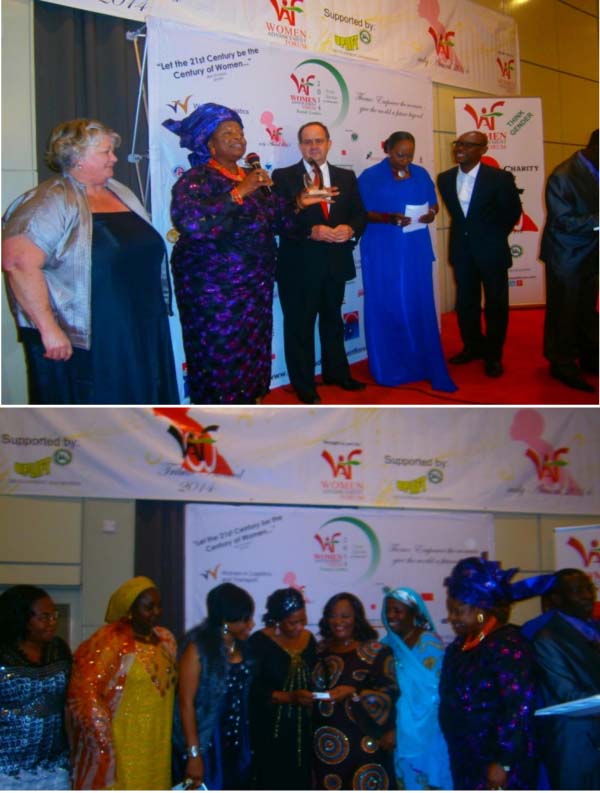 Hello and a warm welcome to another edition of She-she-she, your weekly column that deals with issues of women and girls.
This week has been a very important one for women of The Gambia as they are hosting a summit of the Women Advancement Forum (WAF) for the first time.
WAF is a specialist organization or a product in ECOWAS put together by Africa Business Networking (ABN) global events.
The essence of WAF is to facilitate the empowerment, advancement and emancipation of women side by side with motivating and inspiring women.
WAF stands on three broad roles: the society, business, and politics.
WAF Tuesday night awarded outstanding women and some men who have championed the advancement of women and girls in their various countries in Africa.
The Award ceremony, which took place at the Kairaba Beach Hotel, brought together WAF delegates and other dignitaries in the country.
Speaking on the occasion, Fatoumatta Jahumpa Ceesay, WAF representative in The Gambia, said the forum was an opportunity for all of them to share contacts and the good ideals of the Forum.
She said that at the end of the forum they were all going to come out with a blueprint for women, adding that they were awarding outstanding women because "they are role models in their various countries".
She says they want to be part of decision-making processes and also want take leadership positions in the world.
Aisha Ibrahim, a member of WAF, said this year's forum was an improvement to what they had last year, stating that they want to keep moving, encouraging and mentoring women.
She said whatever they do is geared towards mentoring women because if they don't they would easily be forgotten.
"You cannot be successful as a woman if you do not mentor another," she said. "We must mentor so that we will never be forgotten."
Madam Ibrahim also said that they in the logistics and transport association keep spreading and going from strength to strength, adding that "WiLAT is a group that makes you add value to what you are doing".
WAF 2014 hosted by The Gambia is a great honour for our country. It is not a surprise because when it comes to women empowerment, the Government of the day has put it to be among its first priorities.
Women of The Gambia are playing their part in every sector across the country.
Women and girls are venturing into skills and other small businesses just to put food on the table for their children and contribute to the economy of this great nation.
The Women Advancement Forum couldn't have chosen a better place than The Gambia.
We have the longest-serving female vice president in the world. In the Gambia, women speak gender, eat gender and dream gender while our President makes their dream a reality.
Women, yes, we can say throughout the WAF forum because the women that are attending the forum know very well that they can become presidents, doctors, nurses, pilots and even where it is impossible for men they can take over and the word impossible will turn and say indeed "I am possible".
In The Gambia we have women in our midst who speak gender too and they are also part of the awardees at the WAF Award night.
Some of the awardees are Esther Audu, Nigerian High Commissioner to The Gambia; Abdoulie Touray, who dedicated the award to the 'Bring back our girls' campaign; Binta Sidibeh, executive director of Women's Bureau, for spearheading gender issues in the country; Iyalode Alaba Lawson, Nigeria; Aja Sadia Diko, Peter Mecalfe, and a journalist of DW Magazine among other great women of Africa.
Read Other Articles In Article (Archive)