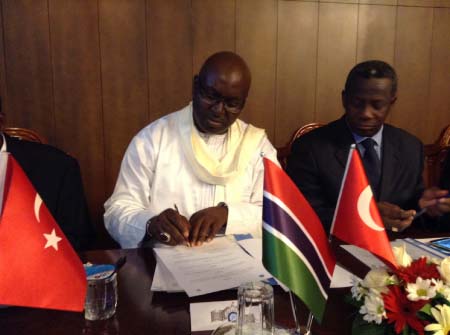 May 25 is celebrated as Africa Day around the world,tomark the anniversary of the founding of the OAU now African Union, and Gazi University in Ankara Turkey hosted a range of related events on 21 and 22 May 2014. 
The deputy prime minister of Turkey, Besir Atalay, represented the government at the inauguration of the events, which were organized in collaboration with the African embassies in Ankara.
Professor Muhammadou M.O. Kah vice chancellor of the University of The Gambia, UTG, was among more than 30 African university vice chancellors invited this year by Gazi University to commemorate the day.
Prof. Kah gave a speech to Turkish national television on behalf of the attending vice chancellors, and spoke of "the importance of their being invited to this wonderful gathering".
He also mentioned the importance of collaborating as universities, with the aim of contributing to the development of humanity.
As part of the event, panels and meetings were organized in commemoration of Africa Day, which included discussion of the development of the Turkey-Africa partnership.
"We aim at carrying Turkish-African cooperation one step further through decisions that will be adopted in the Second Turkey-Africa Summit which will be held in Malabo, the capital of Equatorial Guinea on November 2014", the participants declared in a communique.
In another engagement, Prof Kah chaired an education panel, which deliberated on the problems African universities face, and possible solutions to those problems. How Gazi University can collaborate with African universities was also discussed.
As chair of the program, Prof. Kah said for any development in a country, it should be pioneered by the university since it is the center of knowledge, where the future leaders are groomed.
The panel ended with the signing of MoUs between Gazi University and the attending universities. It covered how these universities can work with Gazi University to improve their educational systems.
Professor Kah signed a memorandum of understanding with Prof. Sulayman Buyukberber, vice chancellor of Gazi University. This MoU will last five years and has five main objectives:
Exchange of university faculty members and researchers; Exchange of students; Organisation of joint research projects, including conferences, meetings, seminars and workshops; Exchange of information and publications; and, other activities mutually agreed by the two institutions.
Read Other Articles In Article (Archive)